Cheap Chinatown Bus to NYC from DE
Why pay the obscenely high rates charged by
Amtrak
to travel to New York City or endure the toll and stress of driving if you travel by car.
A one-way Amtrak ticket to NYC from Wilmington booked one day in advance can be as high as $163. Fuhgeddaboudit!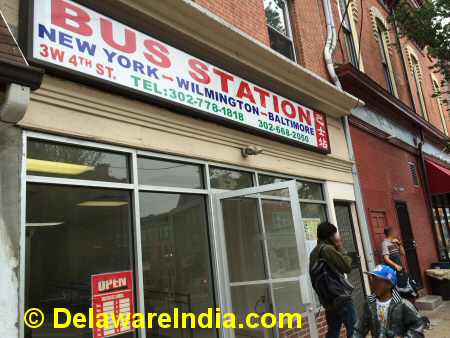 Chinatown Bus Station, Wilmington, DE
Hey, there's a cheap Chinatown Bus service from Delaware to New York City.
Catch a Broadway Show, visit friends or family or just go to the Big Apple to chill. All without paying a king's ransom in transport charges.
Wilmington - NYC Chinatown Bus Service
In Delaware, Chinatown bus service is available from W.4th St in downtown Wilmington to New York City.
Chinatown bus service in Delaware is operated now by
GotoBus
.
Chinatown Bus Ticket Price
A roundtrip ticket to NYC through Chinatown bus service is $35.00.
Fare for the one-way ticket is $20.00.
Tickets can be purchased in advance online at
gotobus.com
, at the bus station counter or while boarding the bus.
But before heading to NYC, get the
99-cent e-book Dirt Cheap NYC
from Amazon.com for money saving tips and deals.
Chinatown Bus Wilmington Location
Chinatown bus station in Wilmington is located at 3 W.4th St (between Market St and N.Shipley St).
The bus station includes a lounge, ticket counter and rest rooms.
There are also electric outlets inside the booking office where you can charge your cellphone or laptop.
Wilmington Chinatown Bus Station
:
3 W. 4th St & Market St
Wilmington, DE 19801
Ph: 302-788-1818, 302-668-2050, 718-300-8034
NYC Drop-Off/Pick-Up Locations
Chinatown bus from Wilmington to NYC drops you off in Manhattan either on 5th Ave between 30th and 31st Streets in Midtown or at 152 East Broadway in Chinatown NYC.
If you get down at W.31th St, you can get to the Herald Sq subway station on W 34th St in just 2 or 3 minutes.
Alternatively, if you get down at the East Broadway stop in Chinatown NYC, you can catch the
F
train from Essex St subway station.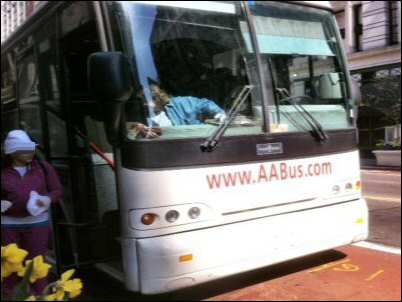 A Delaware Chinatown Bus in NYC
(File Photo 2011)
NYC Chinatown Bus Midtown Drop Off/Pickup
:
5th Ave Between 30th & 31st St
New York, NY 10001
Ph: 212-290-8689, 212-290-8688
NYC Chinatown Bus Station
:
152 East Broadway
(Between Pike & Rutgers St)
New York, NY 10002
Ph: 212-513-7898, 212-513-7889
Wilmington - NYC Chinatown Bus Schedule
The first bus to NYC from Wilmington is at 7:30 AM and the last bus at 11:15 PM. during both weekdays and weekends.