Dum Biryani in Newark and Wilmington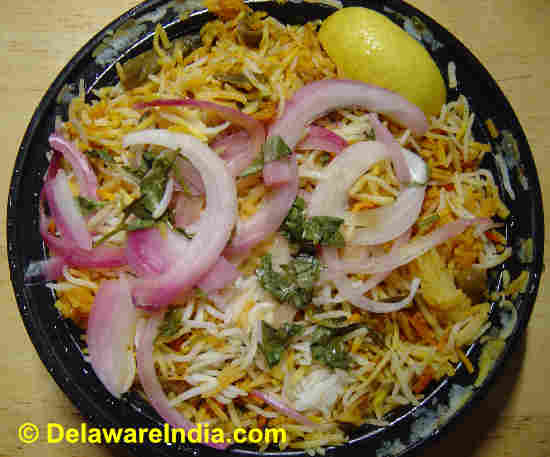 Biryani in Delaware
Delaware fans of Indian cuisine have swooned over
Biryani
for several years now.
Biryani is a centuries-old flavorful rice dish made popular by the Muslims of North India.
Although Biryani can be prepared with meat, eggs and vegetables, the meat variety has always been the most in demand.
Hyderbad Dum Biryani
In recent years,
Hyderabad Dum Biryani
, a speciality from the South Indian states of Andhra Pradesh and Telengana, has won over the palates of Delaware Biryani afficionados.
In Delaware, you can get an opportunity to taste Dum Biryani at
Paradise Biryani Pointe
off RT-273 in Newark,
Tandoori Restaurant
on Kirkwood Highway in Newark,
Tavva
on Main St in Newark; and
Bawarchi
in Wilmington.
Bawarchi offers a variety of Dum Biryani including Chicken Dum Biryani and Vegetable Dum Biryani.
Paradise Biryani Pointe is perhaps the most popular Hyderabad Dum Biryani chain in America. The Newark outpost of Paradise Biryani Pointe serves different kinds of Hyderabad Dum Biryani including Vegetable, Chicken, Egg, Goat and Shrimp Biryani.
On Kirkwood Highway in Newark, Tandoori restaurant serves a variety of Dum Biryani including Lamb Biryani, Chicken Biryani and Goat Dum Biryani.
Dum Biryani is also served at Tavva on Main Street in Newark.
Regular Biryani
For regular Biryani, diners will have to trek to
Nirvana, Star of India
and
India Palace
in Wilmington,
Maharaja
in Newark and
Flavor of India
in the state capital Dover.
Why not give Hyderabad Dum Biryani or its older sibling the regular Biryani a try and titillate your tastebuds.
Dum Biryani in Newark


Newark, DE 19711


Newark, DE 19713



Tandoori

2671 Kirkwood Hwy
Newark, DE 19711



Tavva

215 E Main St
Newark, DE 19711



Regular Biryani in Newark

Lasani Halal

18 Marrows Rd (@ Rt 4)
Newark, DE 19713



Maharaja

1450 Kirkwood Hwy, Ste 121
Newark, DE 19711



Indian Sizzler

72 E. Main Street
Newark, DE 19702



Basant

1422 E.Pulaski Hwy
Newark, DE 19702



Dum Biryani in Wilmington

Bawarchi

2909-1/2 Concord Pike
Wilmington, DE 19803


Wilmington, DE 19808



Regular Biryani in Wilmington

India Palace

101 North Maryland Avenue
Wilmington, DE 19804



Palace of Asia

3421 Kirkwood Highway
Wilmington, DE 19808



Star of India

1710A Newport Gap Pike
Wilmington, DE 19808



Biryani in Dover

Flavor of India

348 North Dupont Highway
Dover, DE 19901


Delaware Indian Food