Rodney Sq Wilmington Farmers Market
Every Wednesday, 10AM-2PM, from May 3 - October 25, 2017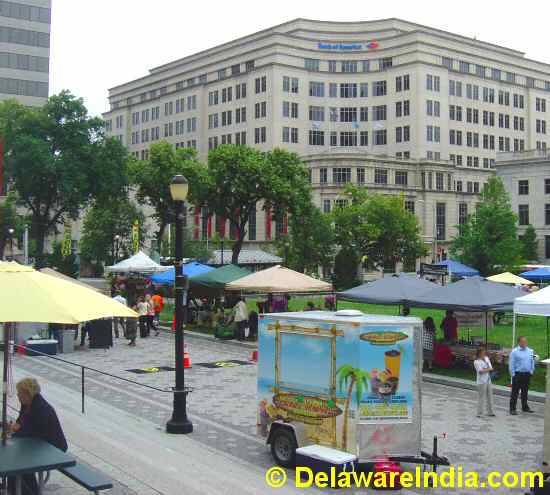 More Food Stands than Farm Produce Stands
Rodney Square Farmers Market
on Wednesdays is an initiative of the Wilmington Mayor and local authorities to boost the local economy and add some color to the city.
In recent years, Wilmington has earned a nasty reputation as the killing fields of Delaware and the city Mayor and local officials are working hard to improve the city's battered image through various initatives.
I visited the Rodney Square Farmers Market recently and was disappointed to see that the place was more of a food court.
Shame! No Indian Food Trucks at Rodney Sq
There are food stands and food trucks selling Asian Fusion items, Thai food, BBQ Meat, Jerk Chicken, Smoothies, Falafel, Cakes etc.
I'm depressed
.
Mighty depressed!
Even as the food truck activity at
Rodney Square
in Wilmington seems to be picking up steam, I see no
Indian food truck
there.
I see sandwich trucks, Asian fusion trucks, Thai food trucks, ice cream trucks but no Indian trucks.
What's wrong with my countrymen?
Something is seriously amiss with Indian restaurants in Delaware.
Don't they want to expand their business, introduce the famed Indian cuisine to more Americans?
I bet if an Indian truck fired up the
Tandoor
and starts offering nice, well-marinated spicy
Tandoori Chicken
, it'd beat all the other trucks. There'd be a line a mile-long.
Well, I shall do my part by offering prayers to
Goddess Mahalakshmi
at the Hindu Temple in Hockessin to perform a miracle and make an Indian truck appear at the Rodney Square food court.
I hardly saw anyone selling fresh produce, maybe a fruit stand here and a flower stand there.
If you're looking for fresh, local produce, I recommend you visit
New Castle Farmers Market
(RT-13 at Rt-273 junction) and
Newark Farmers Market
(on Kirkwood Hwy) have more produce stands.
New Castle Farmers Market
is open Fri-Sun while
Newark Farmers Market
is open daily.
Rodney Sq Farmers Market
Rodney Square
Wilmington, DE 19801
Hours
Wednesdays: 10AM-2PM, May 3 - October 25, 2017