Is Wilmington's Market Street Struggling?
March 18, 2016 -
Market Street
is one of the few safe havens from the daily shootings that have scarred downtown Wilmington in Delaware.
Restaurants, mobile phone stores, coffee shops, fast food places, blood banks and a few offices dot the Market Street corridor between RT-9 (4th St) and Rodney Square.
There is an Indian mobile phone store and two Indian restaurants on and around Market Street.
Market Street is the silver lining of downtown Wilmington amid the daily violence.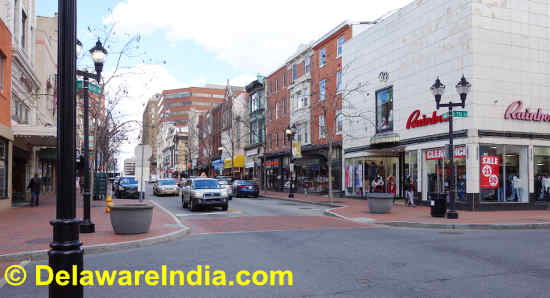 Dark Clouds
But there appears to be dark clouds hovering over Market Street.
During multiple visits to the area, one could not help but notice that a lot of businesses seem to have a thin clientele.
Also, familiar restaurants have folded and new ones seem to take a long time to open. A restaurant offering German cuisine departed some time back.
Masala Kitchen
was scheduled to open in the summer of 2015 but there's no sign of its opening.
Things appear to be worse on side streets like 9th St, which sport an eerily deserted look.
Another vexing issue on Market Street is the harassment by panhandlers.
Even at the bus stop across the street from the
Wilmington Library
on 10th St, people waiting for the bus are pestered for bus change by several people (both young and old).
Delaware Governor Jack Markell's administration has squandered millions on corporate welfare (Fisker, DuPont etc) to woo large businesses but appears reluctant to commit to a comprehensive program to assist small businesses that are the lifeblood of any city.
If Market Street goes down, it's hard to imagine that
Chase
and the few other big businesses in downtown Wilmington will stay for long.
The writing is on the wall for Market Street.
But will people in Wilmington Mayor's office and the Governor's chambers in Dover pay attention before it is too late?