Bawarchi Brings 30 Kinds of Biryani
April 26, 2016 -
Bawarchi Biryani Point
is opening its doors on April 30, 2016 at the same location as the now closed
Taj Palace
on Kirkwood Highway in Newark (behind Wells Fargo bank in the Meadowood Plaza II).
30 Varieties of Biryani
The new restaurant's claim to fame is the 30 varieties of Biryani it intends to offer diners.
Biryani is a flavorful rice dish popular among South Asians.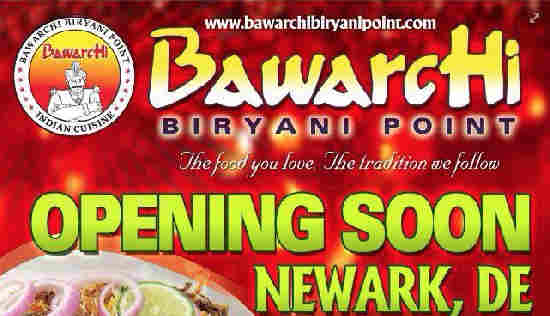 Some of the Biryanis you can expect to try at Bawarchi Biryani Point include Avakai Vegetable Biryani, Hyderabad Chicken Dum Biryani. Bawarchi Special Boneless Chicken Biryani and Ulavarcha Goat Biryani.
Other Delaware Indian restaurants like
Paradise Biryani Pointe
,
Godavari
, Nirvana and
Bawarchi Wilmington
also offer several kinds of
Dum Biryani
.
Other Items
Besides Biryani, diners can expect to feast on different kinds of Dosas like Masala Dosa ($8.49) and Mysore Masala Dosa ($8.99).
A choice of North Indian curries such as Paneer Tikka Masala ($11.99), Malai Kofta ($12.99) and Chicken Tikka Masala ($12.99) will also be available to diners.
Fans of Indian-Chinese cuisine will be pleased to see familiar favorites like Gobi Manchurian, Chilli Paneer and Baby Corn Manchurian at Bawarchi Biryani Point.
Can Bawarchi Survive?
Whether Bawarchi Biryani Point and the other new Indian restaurant,
Godavari
, can survive the tough climate for
desi
restaurants in Delaware is the $64,000 question.
Bawarchi Biryani Point plans to offer
Executive Lunch Thalis
from Monday-Friday.
Without a lunch buffet, Bawarchi Biryani Point is bound to find the going tough.
Three nearby Newark South Asian restaurants (
Tandoori
,
Indian Sizzler
and
Maharaja
) offer
lunch buffets
.