Bawarchi Wilmington Indian Restaurant
Address:


Bawarchi

2909-1/2 Concord Pike
Wilmington, DE 19803


Bawarchi Wilmington Delaware: Hang the Criminals
Something is seriously wrong with
Bawarchi Indian restaurant
in Wilmington and I have more than half a mind to call the police.
Nobody told these Tamil fellas at Bawarchi that an Indian restaurant should not prepare such delicious food.
Did the Bawarchi bonobos not get the memo that Indian food should be lukewarm, stale (preferably leftovers from last week), dripping in oil and bear a foul odor?
The cheek, the effrontery of the Bawarchi folks to serve fresh, piping hot food, yummy in flavor sent me into a paroxysm of fury?
Seriously, what's wrong with these Indian dudes.
Kadai Chicken
Like any Indian of a sound mind, I love the spicy Indian curry
Kadai Chicken
.
The sight and smell of Kadai Chicken sends me into an orgasmic swoon.
This popular curry is prepared by cooking chicken in a spicy gravy of tomato and capsicum.
You eat this curry with rice, Chapati, Roti or Naan.
As an Indian given to eating out a lot, I've had Kadai Chicken on countless occasions.
But rarely ever do I feel satisfied with the Kadai Chicken that lands on my table.
It's never hot (spice-level) for my Indian palate and has no flavor. Much as I loath wasting food, invariably I leave behind half the plate untouched.
Still, given my fondness for the dish I asked for Kadai Chicken during my recent visit to Bawarchi.
It took about 15-minutes for my Kadai Chicken to be ready.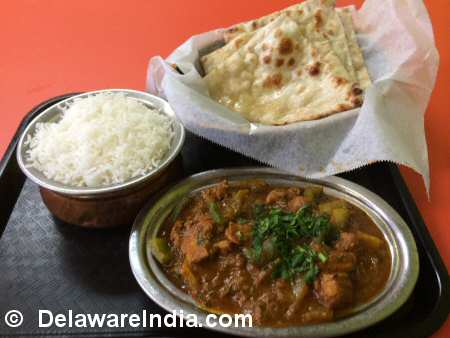 But it was well worth the wait.
Freshly prepared, it had the right spice level for my spice craving Indian palate.
The capsicum flavor was strong and the tender chicken pieces nestled in delicious medium-thick, spicy gravy.
Fresh Naan bread was a buttery revelation and the serving size of Kadai Chicken generous.
Along with the Naan bread and hot white rice, it was a solid meal.
Egg Biryani
Biryani is another favorite of 99% of Indians. And I'm no different from the herd.
Bawarchi's Egg Biryani had several things going in its favor.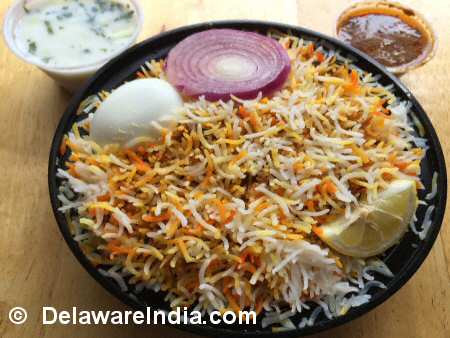 First, it packed a nice aromatic flavor of Biryani spices.
Second, the spice level of Egg Biryani was perfect - Neither obscenely spicy nor bland.
Third, mint leaves added a nice flavor to the Egg Biryani making it divine.
Fourth, Bawarchi's Egg Biryani included two and half boiled eggs, and a slice of onion and lime.
Fifth, Basmati rice was cooked to perfection and Biryani spices seeped well into the rice granules.
Sixth, the serving size was decent, easily sufficient for two moderate eaters.
On the minus side, Bawarchi's Egg Biryani was a little dry and could have used a tad more cooking oil.
Bawarchi's Egg Biryani included two sides - raitha and gravy.
Raitha was medium thick and packed a nice onion, cilantro flavor.
The peanut flavored gravy was a bit bitter in taste.
Its minor issues aside, overall Bawarchi's egg Biryani was a treat.
Bawarchi - Stay Away
What's the world come to that we must endure such indignities as delicious fresh Indian curries and Biryani at a reasonable price!
DelawareIndia.com strongly recommends you not visit Bawarchi Indian restaurant off RT-202 in Wilmington (behind Rita's Ice).
Because if you visit Bawarchi once, you might stop visiting other Indian restaurants in Delaware.
If you value the quantity of a crappy all-you-can-eat bland buffet above the quality of fresh and spicy Indian food, Bawarchi is not the place for you.
In a Wilmington littered with terrible Indian restaurants like
Nirvana
and
India Grille
, I'm mighty glad there's a fine
desi
eatery
Bawarchi
. - ©
DelawareIndia.com