Tandoori Restaurant, Newark


Address:


Tandoori Restaurant

2671 Kirkwood Hwy
Newark, DE 19711

Closed





Closed
Tandoori Newark: Needs Improvement
Tandoori
on Kirkwood Highway in Newark is an odd beast.
When it's good, it's real good.
When it turns bad, it's distressingly awful.
Tandoori Buffet
I dropped by
Tandoori
recently to check out the lunch buffet ($9.99).
In its favor, the place is spacious and clean.
The restroom (achilles heel of countless Indian restaurants) is well maintained.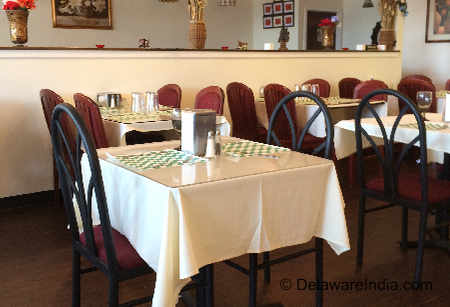 I found a decent spread at the buffet counter but some containers needed replenishment.
Hungry as I was, I quickly pounced upon the food.
Dum Chicken Biryani & Chicken Curry
Dum Chicken Biryani (South Indians will kill for a good Dum Biryani) was spicy as it ought to be but to my gross irritation there were few chicken pieces in it.
What I got was the dregs of the Biryani.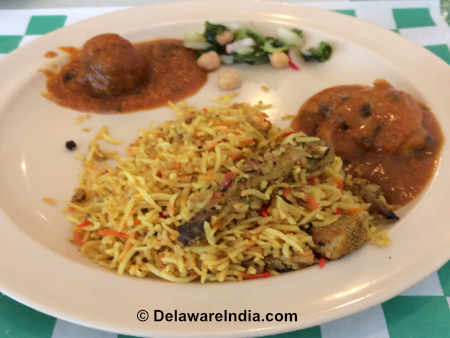 Chicken Curry in a medium thick gravy was a delight, a spicy offering fit for the Gods.
Chilli Chicken - Travesty But there were more than a few unforgivable problems at Tandoori.

With not a hint of heat, Chilli Chicken was a tangy disaster.

It's been a long while since I encountered a flavorful Chili Chicken!

My search for a solid Chilli Chicken in Delaware continues!

Lamb Kofta turned out to be another hit. Set in a flavorful gravy, the kofta balls packed some heat as well.

Sambar Fiasco And then I lurched into a humongous pothole!

Sambar (a common South Indian side for Idli) was an atrocity I wouldn't wish on my worst enemy.



Sambar

Slightly bitter, it was plain garbage.

Did the chef not taste this Sambar before sending it out of the kitchen?



Empty Idli Tray

Sadly, there were no Idlis in sight although there was a small sign pasted on the wall.

The restaurant just did not care to replenish the Idli container.

Whatever happened to the notion of All You Can Eat buffet!

Naan Bread There was a small forlorn looking piece of Batura and one of Naan bread in the container.

Now no self-respecting Indian restaurant leaves Naan at the buffet counter.

Instead, they're prepared fresh and served piping hot at the table.



Naan Bread

Only when I demanded fresh Naan, did the waiter care to get me a basket.

Sadly the Naan bread basket I got was not the kind to drool over.

Tandoori Chicken For a restaurant named Tandoori, the Tandoori chicken was a letdown.

It lacked the smoky flavor, tenderness and good marination that I've encountered elsewhere in Newark to great delight.



Tandoori Chicken (left) & Chilli Chicken (right)

Indian Sizzler on E.Main St in Newark makes yummy Tandoori Chicken.

Vegetarian Entrees Far too frequently, Dal Makhni gets short shrift at other restaurants.

But at Tandoori this commonplace Indian curry, the daily staple of over one billion South Asians, gets the respect it deserves.

With an unmistakable hint of spices and a thick gravy, the Dal Makhni had me hankering for more.



Masala Channa (top), Dal Makhni (left)
& Palak Paneer (right)

Masala Channa turned out to be another pothole I stepped into.

Why Masala Channa (a common Indian dish) is often bad at most Indian restaurants is a mystery I can never fathom.

But Palak Paneer was simply divine, a creamy mildly spiced delight.

In the right hands, Indian food can induce Nirvana! And Palak Paneer brought me close to ecstasy.

Salad & Desserts The watery mango juice was beyond pathetic.

Plain bilge.



Dahi Vada & Salad

I was in raptures when I had the salad (with radish etc) along with Dahi Vada.

During my visit, there was only one dessert.

IMHO, a good Indian buffet should have at least two or three desserts!



Rice Kheer

The thick Rice Kheer turned out to be straight from the heavens.

I felt blessed as I downed spoonfuls of Kheer.

Service was a mixed bag.

Our waiter sported a friendly demeanor and seemed eager to please but committed major goofs.

He did not care to replace the empty Idli tray at the buffet tablet nor did the depleted Dum Chicken Biryani container draw his attention.

Tandoori Newark Rating Both the food and service at Tandoori leave a lot to be desired.

If Tandoori wants to avoid the sad fate of its three Indian predecessors at the same location, it better get its act together fast and provide more value to diners

I did not find Tandoori's lunch buffet to be solid value for money!

Time is running out for Delaware Indian restaurants that fail to provide value to diners. - © DelawareIndia.com