I Don't Give a Fork Food Cart Wilmington
Address:


I Don't Give a Fork

Rodney Square
Wilmington, DE 19801


I Don't Give a Fork, Wilmington DE : Decent Vegetarian Hoagie, Medicore Jalapeno Poppers
During my visit to Rodney Square, I couldn't help noticing that
I Don't Give a Fork
food truck enjoyed a steady stream of customers.
Maybe, it has something to do with the name of the truck. Cute, isn't it?
Since I was in a Vegetarian mood, I placed an order for
The Vegetarian
(comes on a 7-inch hoagie) and
Jalapeno Poppers
.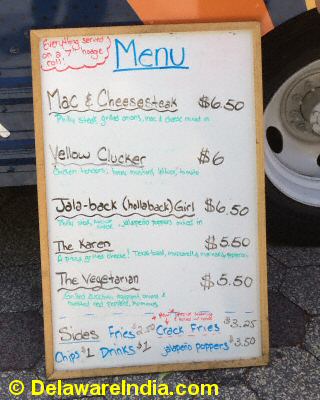 I Don't Give a Fork Menu
Vegetarian Hoagie
In less than five minutes, my items were ready.
My Vegetarian hoagie included grilled Zucchni, Eggplant, Onions, Roasted Red Peppers and Hummus.
The hoagie was well toasted.
It packed a nice flavor and much relished. Way better than my usual Hoagie at the
Wawa
gas stations.
However, I consider $5.50 for a Vegetarian Hoagie Sandwich pricey for a food truck.
Aren't food trucks supposed to be cheaper?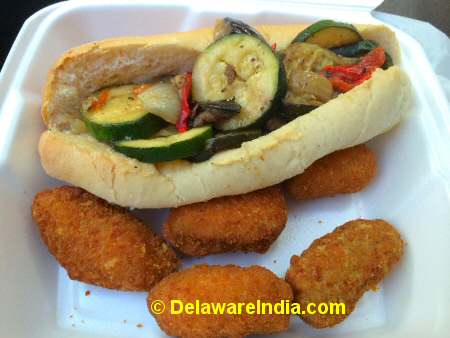 Vegetarian Sandwich - $5.50
Jalapeno Paupers - $3.50
Jalapeno Poppers
Jalapeno Poppers belonged in the mediocre category.
Sure they were hot temperature wise but I found them a little over-fried and the cheese inside packed a slightly bitter taste.
Also, the $3.50 tab for five pieces of Jalapeno Poppers is a rip-off price for a food truck.
The ones I used to get at the Walmart deli were much cheaper and only slightly worse than this food truck Jalapeno Poppers. - ©
DelawareIndia.com