The Wandering Chef Food Cart, DE
Address:


The Wandering Chef

Newark Farmers Market
280 East Main Street
Newark, DE 19711


The Wandering Chef Food Cart DE : Decent Food
Some people whisper behind my back that I was born to eat.
So what if I hog. Eating ain't no crime, brother.
When I heard that
The Wandering Chef
Fusion food cart would be on Main Street in Newark on Sunday, I made the trip pronto.
For Wandering Chef offers Asian food which appeals to my spice hardened Indian palate.
Anything Asian, I'm all for it! :)
Menu
Wandering Chef offers a combination of Chinese, Thai, Korean and Mexican food.
The menu includes starters for $4 and rice bowls for $7.
My picks were Singapore Noodles and Pork Rice Bowl with Korean BBQ sauce.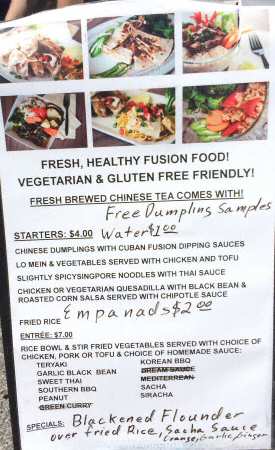 Wandering Chef Menu
As promised by the menu, my order came with two free servings of cold Chinese Tea.
Here's my take on Wandering Chef's Asian fusion food starting with Pork Rice Bowl:
Korean BBQ Pork Rice Bowl
My box was hot and included a sumptuous serving of pork and rice.
Besides Pork with Korean BBQ sauce, my rice bowl included Broccoli, Cabbage and sliced Carrots on a bed of Jasmine rice.
I was not displeased with my bowl.
First, the quantity was generous and it left me feeling full at the end.
I pay as much attention to quantity as I do to quality. In these tough economic times, I want to get maximum pork for my dollar.
Second, there was plenty of flavor and the pork was well-fried.
And as I made my way down into the takeout container, I also encountered some sweetish-tangy sauce.
All in all, I liked my Pork Rice Bowl with Korean BBQ sauce. Don't be surprised if you see me at the truck again.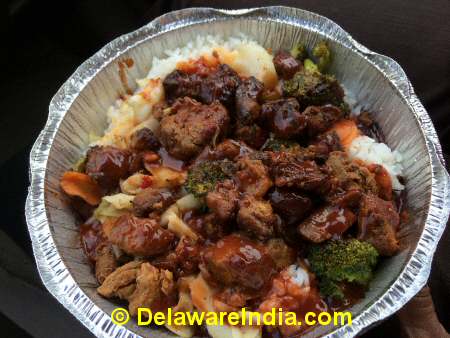 Korean BBQ Pork Rice Bowl - $7
Singapore Noodles
Oh, Goodie! My Singapore Noodles box was also hot.
Singapore Noodles included Broccoli, sliced Carrots, Cabbage, Noodles and a sprinkling of red colored sauce.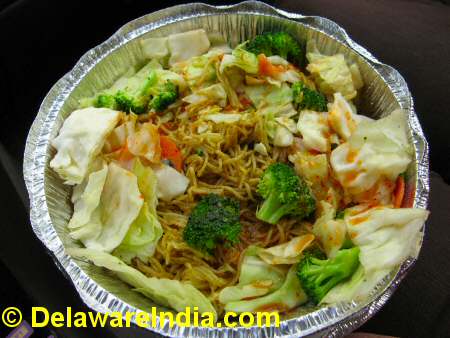 Singapore Noodles - $4
Serving size was decent and the Noodles inside looked yummy.
Although the noodles were mildly spiced for my Indian palate, it was flavorful and
mucho
relished.
The only issue with the Singapore Noodles was that some of the Cabbage leaves had black pock marks on the edges.
Chinese Tea
The cold Chinese Tea packed a nice flavor and was soothing on a hot summer afternoon.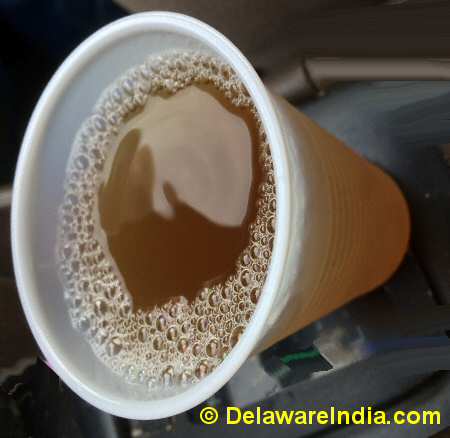 Chinese Tea
And both cups were finished in no time.
Wandering Chef Rating - Mixed Feelings
While I had no complaints about the food, I was unhappy with the service.
First, though we were standing in the line, the guy taking orders was indifferent to us. He was busy offering free samples of dumplings to Caucasian women behind us in the line but gave the cold shoulder to us.
Upon catching the attention of the chef (the other White guy), we politely asked him whether the food cart was open for business and placed our order of Pork Rice Bowl with Korean BBQ Sauce and Singapore Noodles.
Strangely, the chef seemed to think Fish was Vegetarian food. White boys in Delaware ought to read more.
Though Chinese Tea comes free with the food, we did not get it along with our boxes. The chef asked if we wanted it and only upon our affirmative response handed us two cups. Hey, if it's part of my food. Hand it over. Don't ask me if I want it. Hate this kind of cheap nonsense.
Well, I had my revenge soon enough on the White kids. They made a mistake in their calculation and undercharged me by $3. I did not alert them about the error (we got entree-size orders of both Singapore Noodles and Pork Rice bowl).
Moral of the story - Never treat an Asian badly! And that too while selling him Asian food. :) - ©
DelawareIndia.com