Koi On the Go Food Cart Rodney Square
Address:


Koi On the Go

Rodney Square
Wilmington, DE 19801



KOI on the Go - Waiting in Line
Koi On the Go, Wilmington DE : Disappointing Thai Fried Rice
If there's someone who does not like Thai Fried Rice, he'd probably not a denizen of the Milky Way galaxy.
Nor does he belong to the
Homo Sapiens
race.
Being Asian myself, I love all things Asian - Food, the culture, the girls, our crazy movies and, of course, the insanely rich variety of food.
Indian, Thai, Chinese, Korean, Vietnamese, anything Asian, just hand it over baby.
Seeing the line in front of
KOI to Go
, I nourished hopes of a delicious lunch.
Perhaps Fish Tacos and Thai Fried Rice with Chicken would make my day today, I told myself drooling at the mere thought of the food.
Alas, I hit the first pothole soon.
Even before it was my turn at the counter, the truck ran out of Fish Tacos. And it was only 12:45PM!
A few minutes after I placed in my request for Thai Fried Rice with Chicken, the truck ran out of that as well.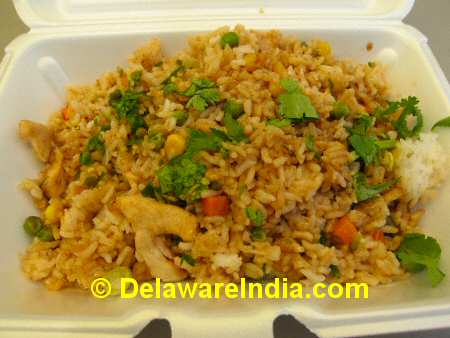 Thai Fried Rice - $7
I plonked myself on one of the tables nearby and waited.
It took about 10-minutes for my Thai Fried rice with Chicken to be ready.
I grabbed my box and eyeing it greedily headed back to my table. I opened it - Yes, it looked good.
And then I tasted it!
I yelped in agony.
This food was junk! Crap!
All the standing in the hot sun and waiting had yielded me nothing but misery.
The biggest problem with my box of Thai Fried Rice with Chicken was the absence of flavor.
It was not hot (spicy) in the least bit.
Even without burning heat, Asian food can be tasty in the hands of a competent chef.
But my Thai Fried Rice with Chicken from
KOI on the Go
was not it.
There wasn't even a flavor of ginger in my fried rice.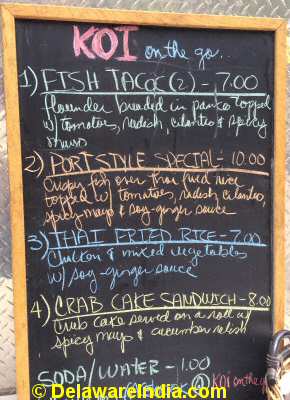 Koi On the Go Menu
$7 for the junk in my box was daylight robbery.
Hell, in a fair world I'd be paid for stuffing such unpalatable food into my mouth.
Since I loath wasting food, I morosely shoveled the "Thai Fried rice" into my mouth and after a dirty look in the direction of the
KOI on the Go
truck I headed back toward Market Street in Wilmington.- ©
DelawareIndia.com