Lasani Halal Newark
Lasani Halal Newark, DE: Good Indian Food
Sometimes bizarre things happen in life.
Take for instance how I landed at
Lasani Halal
Indian restaurant on Marrows Road in Newark.
The other day I was searching for Lasani Halal in NYC and lo my iPhone 5S pulled up
Lasani Halal
in Newak, Delaware.
LOL! Who'd have guessed that would happen.
Halal Indian Food and Grocery
Located on Marrows Rd (near intersection of Rt 4) across the road from
Dairy Queen
in Newark,
Lasani
a.k.a.
Roohani
is both a Halal Indian food joint and Indo-Pak grocery store.
After picking up some books at the University of Delaware, I stopped by Lasani Halal to check out its offerings.
No Buffet
Though Lasani Halal is both a dine in and takeout place, it does not offer lunch buffet.
What a shame! I love Indian buffets for the sheer variety.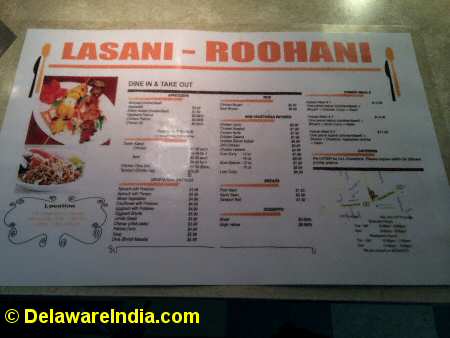 Lasani Halal Menu
Instead, Lasani offers a variety of Indian chicken, goat, vegetable curries, appetizers, kabobs and desserts.
Though Lasani Halal offers
a la carte
menu, prices are not obscenely high like at most Indian restaurants in Delaware.
Vegetarian entrees are priced from $3.99 to $5.99, and Chicken and goat curries are $4.99 to $9.99.
But some items like Veg Pakora, Chicken Pakora and Chicken 65 are sold by pound.
For appetizers, I chose Vegetable Samosa and Chicken 65.
Chicken Biryani, Chicken Karahi, Eggplant Potato and Dal were my picks for entrees. Finally, I asked for a couple of Chapathis.
Here is my take on Lasani Halal Indian food, starting with Chicken 65.
Chicken 65
With Cilantro and Curry leaves seasoning, Chicken 65 was attractive to look at and packed a nice aroma as well.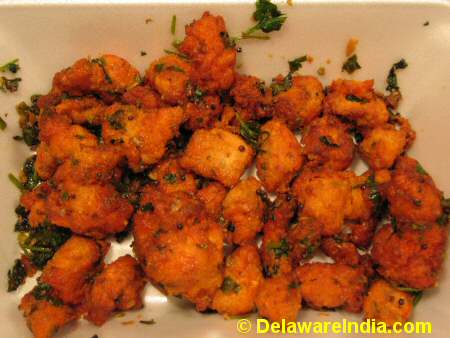 Chicken 65 - $5.21
The tender and flavorful Chicken pieces made it an ideal accompaniment for my bottle of Guinness Stout beer.
I would have sung paeans in its praise had the Chicken 65 been a tad spicier.
Vegetable Samosa
Vegetable Samosa came with a tiny container of Mint Chutney on the side.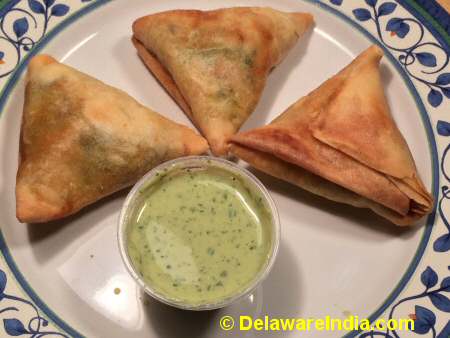 Vegetable Samosa - $0.99 each
Potato curry stuffing with Green Peas and Coriander leaves inside the Samosa was tasty.
Again, the Potato stuffing could have been spicier.
The flavorful Mint Chutney compensated for the low spice level.
But the outer texture of Samosa was too thick and crisp.
Chicken Biryani - Steal at $5.99
There are several things I liked about Lasani Halal's Chicken Biryani.
First, the $5.99 price.
Second, the sumptuous serving size was easily sufficient for two meals.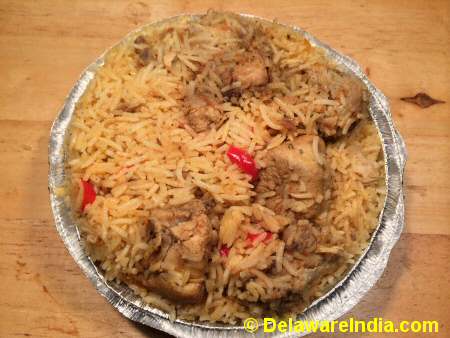 Chicken Biryani - $5.99
Third, Chicken pieces were tender and absorbed the biryani spices well.
Fourth, Chicken Biryani included few slices of red peppers, packed a nice aroma and was flavorful.
Finally, the Chicken Biryani was not in the least bit oily.
But I'd have definitely liked the Biryani a lot spicier.
To my disappointment, it was way too mild.
Chicken Karahi - $7.99
Set in a medium thick brown color gravy with Cilantro leaves seasoning, Chicken Karahi included tender and flavorful Chicken pieces.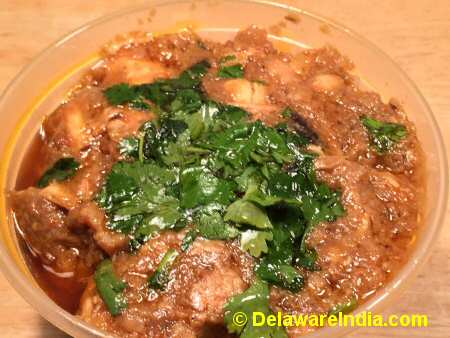 Chicken Karahi - $7.99
Serving size was decent for the price.
My only grouse was that it did not come with any White Rice.
Daal - $3.99
To say that Lasani Halal's Daal is the best I've tasted in Delaware would be an understatement.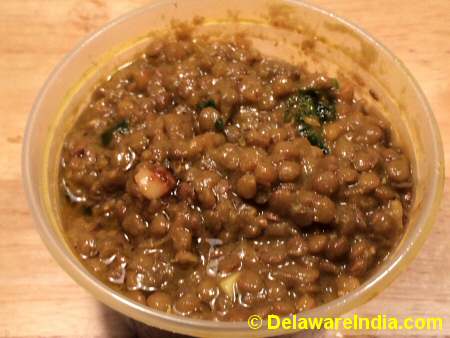 Dal - $3.99
Folks, with mild garlic and ginger seasoning it was delicious.
And the best thing about Lasani Halal's Daal is the $3.99 pricing and generous serving size.
Eggplant Potato - $4.99
Eggplant Potato curry came packed with a mild garam masala flavor and was a bit oily.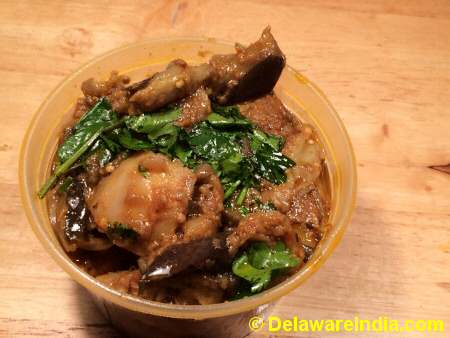 Eggplant Potato - $4.99
To its credit, the serving size was decent for the $4.99 price.
I would have enjoyed it had it been spicy.
Bread
The two Chapathis I picked up for bread were huge, soft and tasty.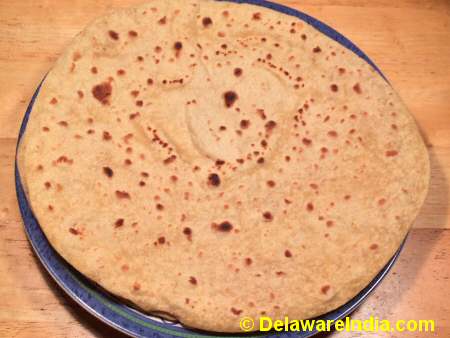 Chapathi - $1.50 each
No complaints folks.
Service, Ambiance
Lasani Halal has no ambiance to speak off.
It's like any South Asian dump! The plastic menu at the counter was sticky!
As you enter, you have grocery section upfront. Food counter is further ahead, and the dine-in area is near the counter.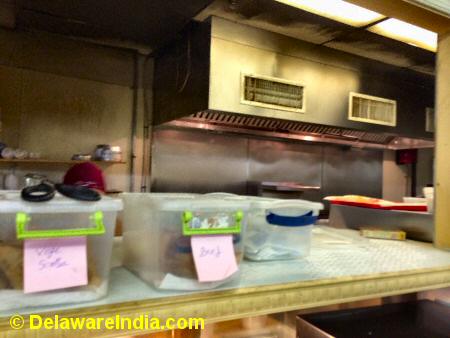 Lasani Halal Food Counter
You pick up a menu, place your order, pay for it and wait for your food.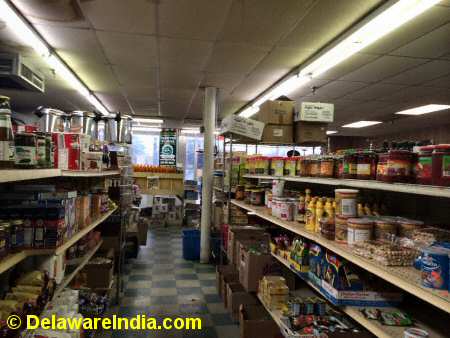 Lasani Halal Grocery Section
Food items like Chapathis and Chicken 65 are pre-prepared and placed at food counter.
Some Vegetarian and meat entrees are also pre-prepared.
During my visit, several menu items like Chicken Kofta, Chilli Chicken, Spinach Paneer, and Eggplant Bhurta were not available.
It took about 10 minutes for my order to be ready.
My entire order was packed neatly but not even warmed up or microwaved before packing.
Also, it did not come with spoons, forks or plastic plates.
Lasani Halal Newark Rating
Lasani Halal in Newark serves good Indian food at reasonable prices.
On the negative side, food is pre-prepared and not warmed up before packing.
But my biggest grouse is that the food is not spicy enough for my spice-hardened Indian palate.
Also, since Lasani Halal is an Indian, Pakistani, Middle Eastern food joint, it serves Beef. So avoid Lasani Halal, if you are a devout Hindu.
As for me, I intend to revisit
Lasani Halal
and try some of the other items like Chicken Kofta, Chilli Chicken, Eggplant Bhurta and Kababs.- ©
DelawareIndia.com