Scrumptious Wilmington Indian Restaurant
Scrumptious Wilmington DE : Disappointing Indian Food
When we heard that the
Scrumptious
sandwich and coffee shop in Wilmington was peddling Indian food too, our taste buds stood to attention and demanded immediate gratification.
Like any sane
desi
, we crave Indian street food such as Pav Bhaji, Bombay Sandwich, Dabeli etc. So we hotfooted over to Scrumptious on Delaware Ave in Wilmington.
In retrospect, our Scrumptious visit was a mistake as their Indian food turned out to be disappointing.
Our Order
Sandwiched between a Mexican Grill/Tequila Bar and Harrington Real Estate, Scrumptious does not have much of an ambiance.
There are tables upfront, frozen yogurt machines and kitchen counter on the left and a few tables at the rear.
When we walked in, three customers were digging into their yogurt.
There was a stiff, unsmiling, frozen Indian waiter/counter-person wearing a doleful expression behind the counter. Why do Indian waiters always sport a funereal look?
Only as we were leaving did this waiter/counter-person warm up a bit, inquiring about the food and volunteering that he hailed from Bucks County and that his name was Vishnu.
We picked up a menu of the Indian lunch (served all day) and placed our order for Dabeli ($4.49), Pav Bhaji ($7.99) and Bombay Grilled Sandwich ($5.49).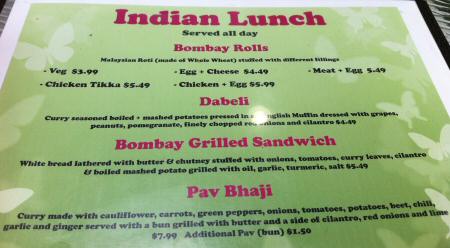 Scrumptious Indian Lunch Menu - Rip-off Prices
Since we love frozen yogurt, we also picked up a cup to get ourselves some dessert.
Our Indian street food order was ready in about ten minutes and all items were delivered together at the table.
Here's our take on Scrumptious' Indian food:
Dabeli - $4.49
Dabeli is a snack popular in Western India.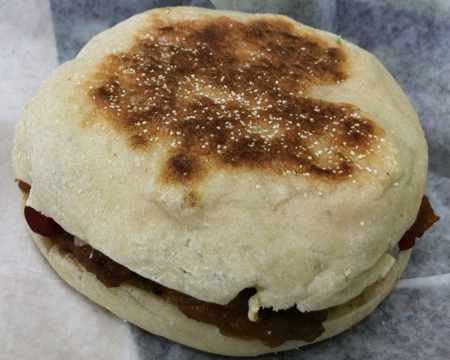 Dabeli - $4.49
Dabeli included a small English muffin with a pressing of mashed potatoes and dressing of peanuts, pomegranate and onions.
One bite into the Dabeli and we reeled back in horror.
Dabeli turned out to be way too salty to render any joy.
In our lexicon, too much salt in a dish bespeaks of utter carelessness or a chef unschooled in the basics of cooking.
The Dabeli was also missing on the grapes and cilantro dressing promised in the Scrumptious Indian lunch menu.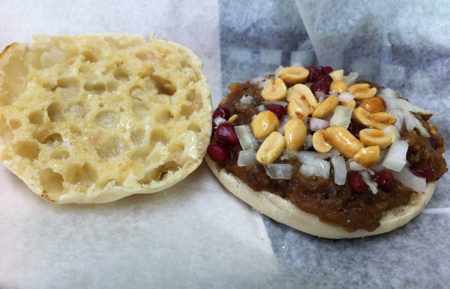 Dabeli - Inside Story
Pav Bhaji - $7.99
The $7.99 Pav Bhaji turned out to be second disaster.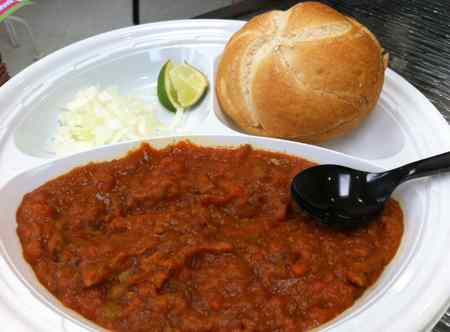 Pav Bhaji - $7.99
There were multiple issues with the Pav Bhaji:
First, the Bhaji was way too mildly spiced and provided no joy to our Indian palates.
Second, our Pav Bhaji order like the Dabeli did not come with the cilantro side promised by the menu.
Third, it came with just one medium sized Pav (Bun) for the high price charged.
Finally, the overall serving size of Pav Bhaji was too small for the price.



Besides not being value for money, Indians are unlikely to be satisfied with the taste of this travesty.
Bombay Grilled Sandwich - $5.49
Bombay Grilled Sandwich came with two slices of toasted white bread, cut diagonally in the middle.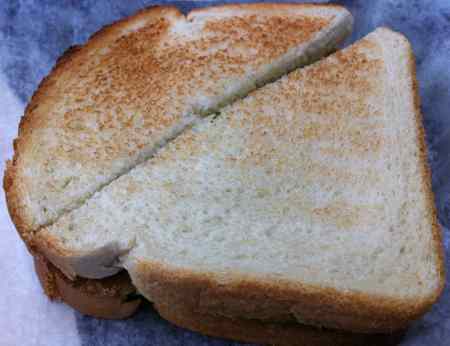 Bombay Grilled Sandwich - $5.49
The sandwich included a smearing of Green Chutney and some mashed Potato Curry. It was a bit warm and did not taste bad.
But it was far from scrumptious.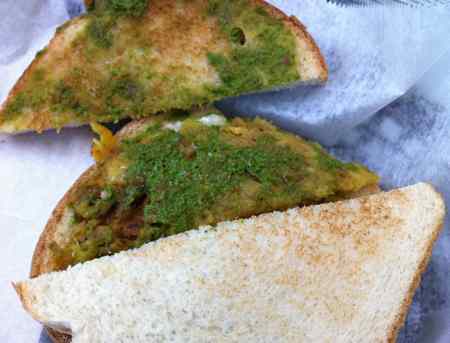 Bombay Grilled Sandwich - Inside Story
While the sandwich was not bad, we felt cheated because it did not include everything promised on the menu.
Scrumptious menu describes Bombay Grilled Sandwich as:
"White bread lathered with butter and chutney & stuffed with onions, tomatoes, curry leaves, cilantro and boiled mashed potato grilled with oil, garlic, turmeric and salt."


While our Bombay Grilled Sandwich included chutney and mashed potatoes it was missing on the onion, tomatoes, curry leaves stuffing, and was way too light on the butter.
Frozen Yogurt - $7.64
Frozen Yogurt at Scrumptious costs 49 cents per ounce.
We filled our cup with non-fat Chocolate, Irish Mint, Cheese Cake frozen yogurt and Key Lime Pie sorbet.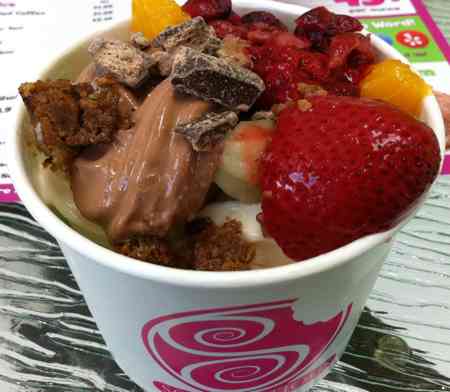 Frozen Yogurt - $7.64
For toppings, we picked kit kat, sliced peaches, strawberry and some nameless red color toppings.
The yogurt was alright but nothing to get excited about.
And $7.64 is an insane price!
Service and Ambiance
The stiff Indian waiter never cared to say "Hello" as we walked in.
If you can't greet and smile at a customer, the food business is not for you. Hell, we get a warmer welcome when we go to
McDonald's
for a $1
Hot & Spicy McChicken
Our food at Scrumptious came with enough napkins.
Tables were clean and there are electric plug points in the store if you want to charge your mobile phone. The restaurant also has free Wi-fi but it did not work during our visit and asked us for a password.
Scrumptious Wilmington Rating
All in all, the Indian food we ordered at Scrumptious was a big let down.
We're unlikely to return to
Scrumptious
any time soon. - ©
DelawareIndia.com