Masala Kitchen, New Castle
Masala Kitchen New Castle: Spicy Treat
Chaat
is to Indians what big boobs are to Americans of all stripes.
Irresistible. You want to grab as much as you can! :)
Chaat is tangy-spicy street food sold from a million small carts across the length and breadth of India.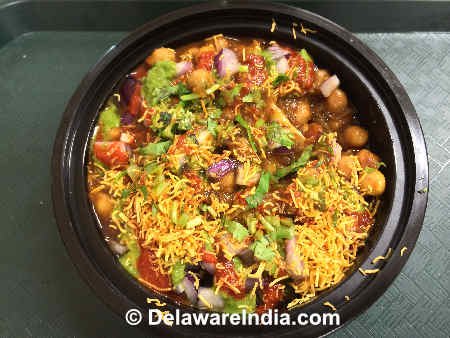 When you say Chaat, what comes to mind is yummy stuff like Bhel Puri, Aloo Puri, Sev Puri, Samosa Chaat, Pani Puri, Papdi Chaat and Dahi Batata Puri.
While Delaware has plenty of Indian restaurants, Chaat has always been hard to come by unless you were willing to make the 70-mile round-trip to Philadelphia or drive all the way to the Indian shopping Mecca on Oak Tree Road in Edison.
That is until
Masala Kitchen
opened in the New Castle Farmer's Market a couple of years back.
Masala Kitchen
On a recent Saturday, I happened to find myself at the
New Castle Farmers Market
on North Dupont Hwy on a mission to pick up Karela (bitter melon) and other Indian vegetables.
Following the completion of my Karela mission, I headed toward Masala Kitchen for my Chaat fix.
I ordered three items - Samosa Chaat and Papdi Chaat for dine-in and four Samosas for takeout.
Papdi Chaat came first followed soon by Samosa Chaat.
Here's my take on the two Chaats.
Samosa Chaat
Of all the varieties of Chaat, Samosa Chaat is my favorite.
Think of Samosa Chaat as this Indian's
Pamela Andersen
. :)
It's made from mashed Samosas, diced Tomatoes, Onions, Chickpeas, boiled Potato, chopped Cilantro leaves and green chilies.
With its killer looks, my Samosa Chaat bowl looked divine.
I dove into the bowl
mucho gusto
.
Boy, was the Samosa Chaat hot.
Delicious!
My only irritations were that it was on the cold side (chopped vegetables seem to have come straight from the refrigerator) and it had a
Garam Masala
flavor.
I hate it when restaurants are lazy to use fresh vegetables. But then Indians will be Indians.
Papdi Chaat
Papdi Chaat looked equally yummy.
Besides Papdi, it included chopped Tomatoes, red Onions, Cilantro, boiled Potato and Sev toppings drizzled with sumptuous amount of red sauce.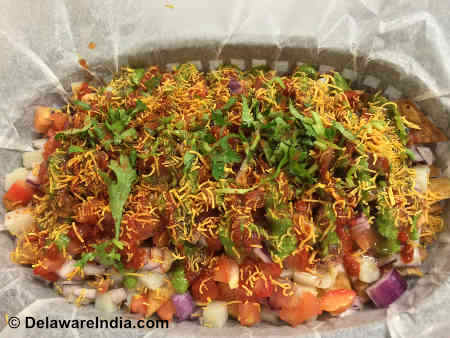 Wow, this Chaat too packed a spicy flavor.
Truth be said, way too spicy for even my spice hardened South Indian palate.
Again, some of the ingredients were cold.
Also the serving of Papdi was small compared to the Tomatoes, red Onions and other vegetables.
Vegetable Samosa
My vegetable Samosa takeout came with two sauces: Green Chilli and Tamarind.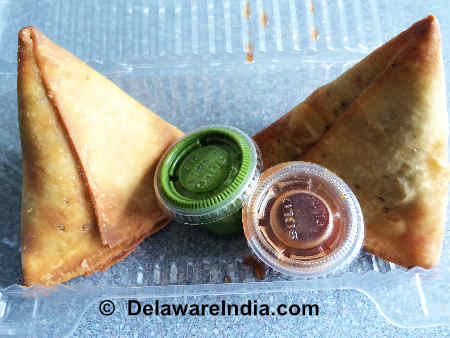 Samosas were big, evenly fried and neatly packed in a plastic box.
While I had no problem with the texture of the Samosas, what got my goat was the strong Garam Masala flavored Potato curry stuffing inside.
Also, at $2 per piece, Masala Kitchen's Vegetable Samosas are pricey.
Green Chutney and Tamarind sauce were alright. Nothing much to write home about.
Masala Kitchen Rating
Service needs to improve at Masala Kitchen.
Despite my explicit request, I was not issued a payment receipt.
While the Papdi and Samosa Chaats were spicy and tasty, I was not thrilled with the
Garam Masala
(a blend of spices) flavor.
Garam Masala comes in various kinds.
Unfortunately, the kind used at Masala Kitchen triggered a severe stomach upset later.
Avoid Masala Kichen's Samosa Chaat if you cannot handle strong Garam Masala flavored food. - ©
DelawareIndia.com