Basant Indian Food Newark
Basant Indian Takeout Newark, DE : Not a Bad Deal
Located in Elizabeth Plaza on Rt 40 (Pulaski Hwy) is
Basant
, an Indian grocery store that also offers takeout food.
The other day I was at Basant looking for Indian curry leaves.
While I could not get curry leaves, I ended up ordering a takeout.
$6.99 & $7.99 Platters
Besides an array of vegetarian and non-vegetarian Indian curries, Basant offers platters.
Basant's platters come in two varieties - Veg ($6.99) and Non-veg ($7.99).
Basant's platters include one curry, plain rice, one Naan bread, appetizer and dessert.
When it comes to selection of curry/entree, appetizer or dessert there is no choice for the diner/customer.
It is either pre-fixed or the Basant's kitchen makes the choice for diner.
Non-veg platters are served with Chicken Curry and Veg platters come with Mixed Vegetable Curry.
Appetizer and dessert are the choice of the cook.
Since I wanted to avoid cooking for the day, I ordered a Veg and Non-veg platter each.
My order was ready in about 15 minutes. Here is my take on Basant's platters starting with the non-veg platter:
Non-Veg Platter
Besides the fixed Chicken Curry entree, rice and naan bread, my non-veg platter included Kebabs for appetizer and Suzi Halwa for dessert.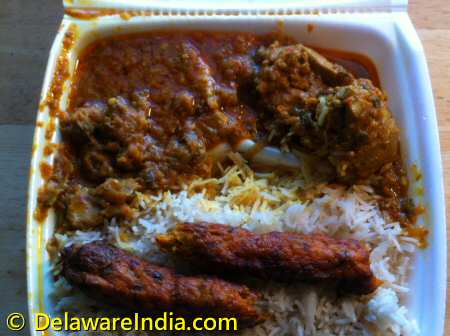 Chicken Curry (top) Kebabs & Rice
Set in a brown color medium thick gravy, Chicken Curry included four pieces of Chicken with bone.
While the Chicken pieces were tender, the curry was a little underspiced.
The Kebabs were alright, roasted well and juicy.
My platter takeout came with a small serving of salad that included few slices of onion, four cut pieces of Jalapeno peppers and two pieces of cut lime.
Veg Platter
Veg Platter came with the pre-fixed Mixed Vegetable Curry for entree, two Pakoras, rice, one Naan bread and Suzi Halwa for dessert.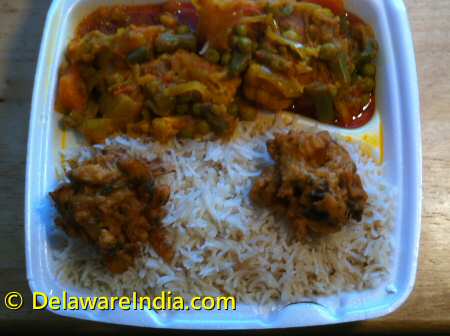 Mixed Veg Curry (top) Pakora & Rice
Basant's Mixed Vegetable Curry was "
above average
".
The curry included a mix of vegetables like three pieces of Potato, two pieces of Cauliflower, one piece of Carrot, few Green Peas, Beans, Tomato, and Onion.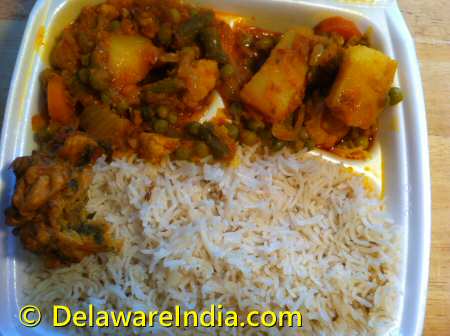 Huge Pieces of Potato in Mixed Veg Curry
Potato pieces were huge and the mixed Veg Curry was slightly high on turmeric powder.
Also, like Chicken Curry, Basant's Mixed Vegetable Curry could have done with a little more spices.
The two medium size Pakoras were tasty and included Onion, Spinach and Potato pieces.
I would have enjoyed the Pakoras more had they been packed separately. Pakoras became soft as they were placed on hot rice in a tightly packed Styrofoam box.
Naan Bread and Rice
Basant's Naan bread was big and the edges were a little rubbery.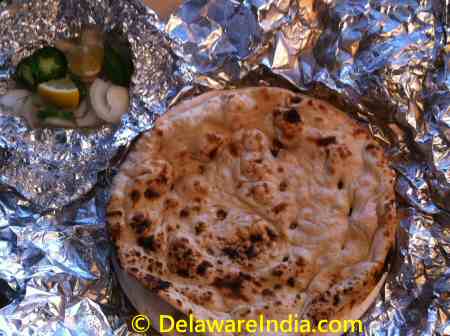 Naan Bread & Salad
Plain rice was hot, fresh and serving size was decent.
Dessert - Awful
The Suzi Halwa dessert with an ugly orangish food color was awful.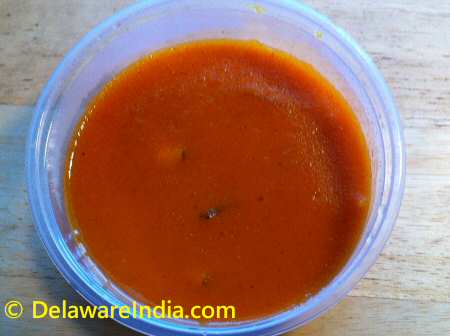 Suzi Halwa
With a strong smell of cheap cooking oil, Suzi Halwa was horribly low on sugar and ghee.
Also, it was missing on cardamom flavor and toppings like cashew nuts and raisins.
It included a tiny piece of dry coconut.
Ambiance and Service
Basant has no ambiance to speak off.
As you enter you have cash counter on the right, Indian grocery and produce upfront, kitchen at the rear.
You place your order at the cash counter, pay up and wait for your food.
During my visit, the cash counter person (owner??) was busy watching TV and the lady was yakking away on the phone.
They were so busy with their chores of watching TV and chatting on the phone that I had to repeatedly ask for a receipt after paying for the food.
The grocery and produce section was in disarray as I could not find even basic items like Tamarind. When I enquired if they have Tamarind, the cash counter fella with his eyes glued to TV disinterestedly pointed a finger in the air toward one of the shelves.
Also, my takeout order did not come with napkins, spoons and fork.
Basant Indian Takeout Rating
If you are looking for a reasonably priced Indian dinner, I recommend you consider Basant Indian Takeout Platters.
Priced at $6.99 and $7.99 for Veg and non-veg platters, you get to taste a complete Indian meal - entree, rice, bread, appetizer and dessert.
The bad thing is Basant Indian takeout platters come with fixed entrees and appetizers and desserts of the day.
Avoid Basant during lunch hours because for a dollar or two more you can get an all-you-can eat 15-item lunch buffet with an array of vegetarian and meat entrees, appetizers, and desserts at Newark Indian restaurants like
Tandoori, Maharaja
and
Indian Sizzler
.- ©
DelawareIndia.com