Trader Joe's Wilmington
Address:


Trader Joe's

5605 Concord Pike
Wilmington, DE 19803


Trader Joe' Aloo Chaat Kati Pouch - Not a Bad Deal
When I heard Trader Joe's new Indian offering was
Aloo Chaat Kati Pouches,
I was more than eager to try 'em.
Like most
desis
, I crave
Chaat
(Indian street food) and found it intriguing that it's now available in frozen form.
So I made the 80-mile round trip to Trader Joe's on a cold, rainy evening to buy the Aloo Chaat Kati.
Such is my fondness for
Chaat
.
Trader Joe's Aloo Chaat Kati Pouches
Unlike the traditional
Chaat
that's made fresh upon order, Trader Joe's Aloo Chaat comes in a pouch.
So you must temper your expectations as to the product's freshness.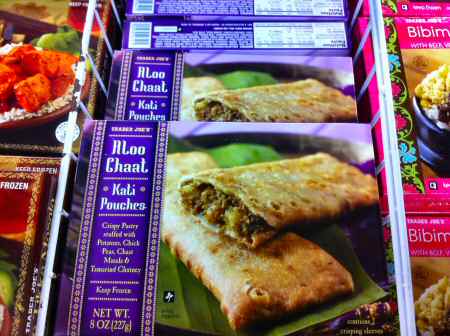 Priced at $2.29, the attractive blue box included two Aloo Chaat Kati Pouches.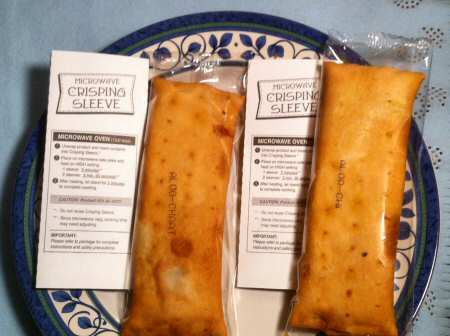 Besides the two Aloo Chaat Kati Pouches, the box also included two crisping sleeves for heating them in a microwave.
The crisping sleeves are made of paper outside and a thin aluminum foil inside. The sleeves can be used only once.
Aloo Chaat Kati Pouches were neatly wrapped in a sealed plastic wrapper with the name clearly printed on top.
Trader Joe's Aloo Chaat Kati Pouch Box
* Pouches in Box - 2
* Aloo Kati Chaat Price - $2.29
* Crisping Sleeves - 2
* Vegetarian
Aloo Chaat Kati Pouch - Heating Instructions
As with most heat-and-eat frozen food, there were clear instructions on the box.
Aloo Chaat Kati Pouches can be heated either in microwave or in an oven preheated to 375 degrees F.
Since I was in a rush, I chose the microwave option.
You simply remove the plastic wrapper, slide the Aloo Chaat Tikki Pouch in to the crisping sleeve and heat it.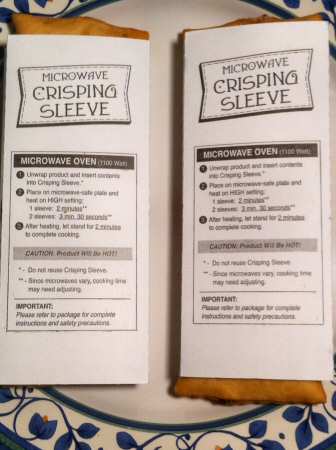 The box recommends two minutes for one pouch and 3.5 minutes for two pouches on high power.
However, the 3.5 minutes for two pouches was not sufficient as it was cold in the middle and I had to heat them for about five minutes to get the pouch evenly heated.
I allowed the Aloo Chaat Kati pouch to cool down for two minutes and then took the first bite.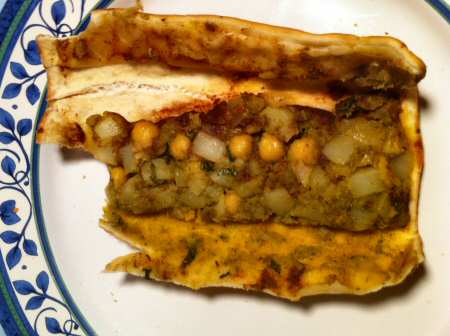 Our Verdict on Aloo Chaat Kati Pouches:
Aloo Chaat Kati Pouches came with a thick outer cover stuffed with Chaat inside
Each pouch is meant as a snack, not a full meal. So don't whine about the size
Aloo Chat stuffing included small cubed Potato pieces, Chickpeas, Chaat Masala and Tamarind Chutney
Aloo Chaat Kati Pouch was slightly sweetish, slightly tangy and the Chickpeas were well cooked. But the small cubed Potato pieces were a little hard
I would have enjoyed the Aloo Chaat Kati Pouches more had the Chaat masala inside been spicier or included a green Chutney dip on the side
Overall, its shortcomings aside, I still consider $1.15 for a heat-and-eat Indian
Chaat
snack a decent deal.
The Aloo Chaat Kati Pouch makes for a nice afternoon snack.
Nutrition Facts for Aloo Chaat Kati Pouches:Paneer Tikka Masala,
Malabar Naan, Garlic Naan
, oranges, etc.
Trader Joe's Paneer Tikka Masala - Good
I am no stranger to Trader Joe's Paneer Tikka Masala as I have tried it in the past.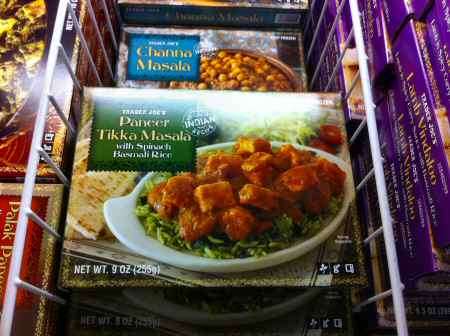 The Paneer Tikka Masala comes with a serving of Spinach Basmati Rice on the side.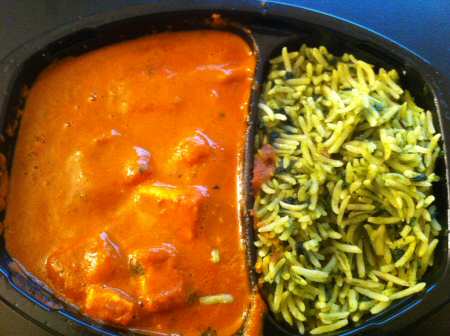 Set in a creamy, moderately spiced smooth gravy, Paneer Tikka Masala included nine small Paneer cubes.
Paneer cubes were soft and tasty.
The accompanying Spinach Basmati Rice was mildly spiced and included three small cubed carrots.
The texture of the rice was good after heating.
Again, though the box recommends of 4-4 1/2 minutes, I had to heat it for nearly six minutes to get an even temperature for both Paneer Tikka Masala and Spinach Basmati Rice.
For $2.99, I found the serving size too small.
To compensate for the small serving size of rice, I used a Garlic Naan that I picked up from Trader Joe's.
Besides the frozen Indian curry packets, Trader Joe's also sells heat and eat Garlic Naan ($2.29 for 4 pieces), Tandoori Naan, Malabar Paratha ($1.69 for five pieces) and a variety of yummy soups (Tomato Basil and Roasted Red Pepper are my favorites).
Trader Joe's also sells other frozen Indian curries like Chicken Tikka Masala, Lamb Vindaloo, Channa Masala, Palak Paneer etc.
Our Take on Trader Joe's
If you love Indian food like me, I heartily recommend Trader Joe's frozen Indian curries and Naan breads.
They're a lot better than the stuff served by a lot of Indian restaurants in New Jersey and New York City, both in terms of quality and price.
Unlike the Indian grocery stores, the frozen Indian curry packets at Trader Joe's are relatively fresh as they move fast. But stay away from Trader Joe's hideous
Masala Dosa
. - © DelawareIndia.com