Wegmans Indian Food
Address:


Wegmans

100 Applied Bank Blvd
Glen Mills, PA 19342


Wegmans Glen Mills Indian Food: Insanely Trashy
If you enjoy getting ripped off with crappy Indian food at ridiculous prices, then
Wegmans
in Glen Mills (a few miles across the Delaware state line in PA) is just the right place to visit.
On both quality and variety fronts, my Indian odyssey to
Wegmans
Glen Mills on a rainy evening turned out to be a miserable experience.
If you ask me, the bozos at
Wegmans
Glen Mills know as much about Indian food as yours truly does about Lady Gaga's
oeuvre
.
In tears, I asked myself
sotto voce
- Hey Ram, where are the Indian flavors?
After spending $9.91, I was mad as hell and still hungry.
And mind you, I'm not even a heavy eater like the other
Bakasuras
from
Mera Bharat Mahaan
(Incredible India)!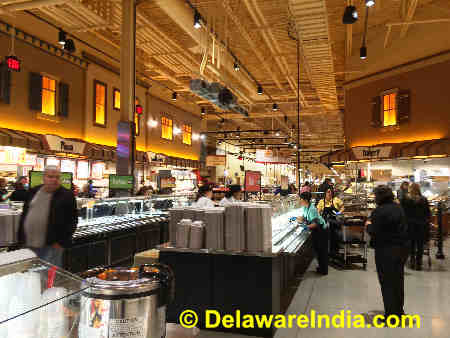 Wegmans Glen Mills - Nice Store
Wegmans
Glen Mills is a six-minute drive from the Concord Pike Mall. Just keep driving north on RT-202 and you'll soon see it on the right. Compared to the average big box Delaware grocery store (which is only a slightly better version of a Kent County chicken farm),
Wegmans
Glen Mills has a pleasing gleaming ambiance.
You can't but be impressed with the size and amount of stuff at the
Wegmans
Glen Mills store.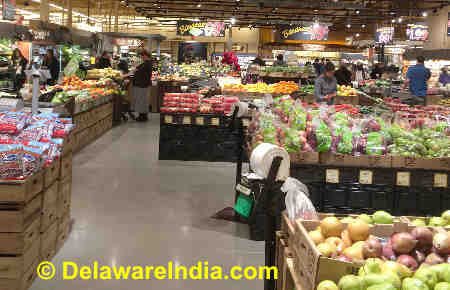 There're various buffet counters, a bakery, a pub, vegetables, fruits, grocery and tons of other stuff.
Hey, there's even 'Premium' Dog Food at
Wegmans
in aisle 17A for those who recoil at the horror of feeding ordinary food to their canine alter egos. No kidding, just look at the below picture!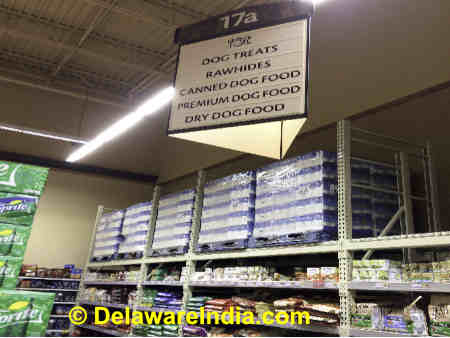 Unlike the sourpusses at Delaware grocery stores who seem to be forever in high dudgeon or mourning, I found the
Wegmans
Glen Mills staff smiling and eager to help.
I suspect
Wegmans
staff is paid better and treated like humans.
Indian Food @ Wegmans Glen Mills
If you're heading to
Wegmans
Glen Mills for the Indian food, you can find it in the Asian section (which also includes Chinese and Thai fare). Mind you, at $8.99/lb the food at
Wegmans
Glen Mills is not cheap. For comparison purposes, you can get a 10 or 15 course all-you-can-eat Indian buffet for $8.99 at most Indian restaurants on weekdays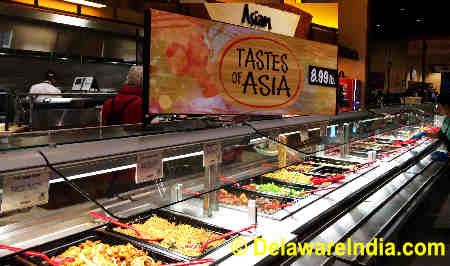 On the day of my visit, there were just four Indian items -
Curry Chicken, Channa Masala, Chicken Makhani
and
Nan Bread
.
What a skimpy deal for the wonderful cuisine from my homeland!
I don't know if
Wegmans
changes the Indian menu every day or it's the same affair every day.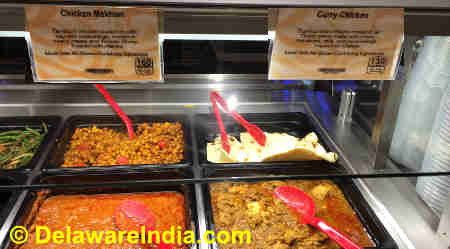 Now for the Indian food I ate at Wegmans Glen Mills.
Chicken Curry, a commonplace Indian
entree
, was a miserable flop.
The curry was of the boneless variety and the chicken pieces nestled in a medium thick brown color gravy.
But the curry failed at a fundamental level because it was not in the least bit spicy.
A curry not spicy is like Lady Gaga arriving at an event dressed demurely!
Miserable as I was, little did I know the trauma that lay ahead of me!
Whoever prepared the
Channa Masala
that made its way to my plate must have apprenticed in Satan's kitchen.
I kid you not. It was sooo inedibly bad.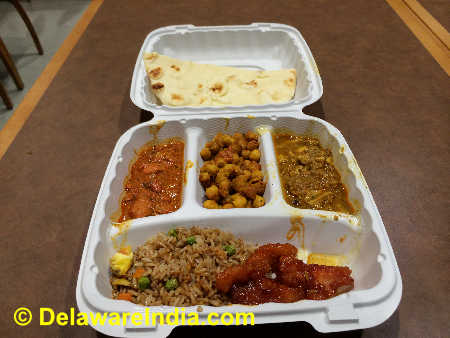 Not one whit spicy and not one bit flavorful, it was abject misery to someone like me who loves Indian food.
To describe
Wegmans
Channa Masala as garbage would be a disservice to garbage!
Wearily, I trekked on to
Chicken Makhani
, the next mountain on my
Wegmans
expedition.
Alas, the Chicken Makhani was way too sour.
The villain was the excessive use of the Tomato sauce.
It was also not as creamy as I'd have liked it.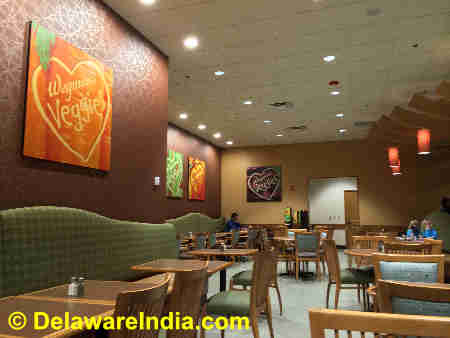 The best that could be said of the Naan Bread was that it was not as offensive as the Channa Masala and Chicken Curry.
There are also some heat-n-eat curry packets (mostly MTR and Kohinoor brands) at
Wegmans
. But I did not care to pick them up since I had tried them all so many times in the past.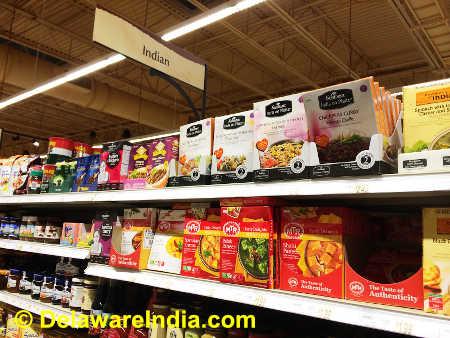 I also found a few Indian items in the frozen food aisle and picked up
Wegmans Chicken Korma
.
Trader Joes in Wilmington seems to have more Indian items in their frozen section.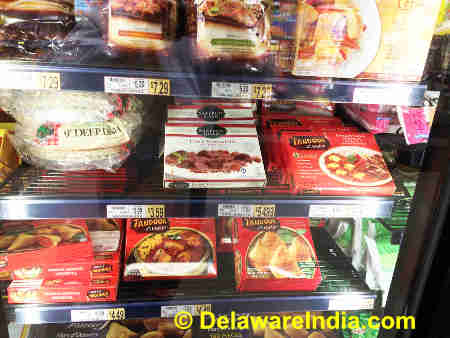 Wegmans Chicken Korma
Depraved Monsters!
Democ-rats!
Hillary Clinton!
Scumbags!
Re-thuglicans!
Donald Trump!
Scheise!
Bernie Sanders!
Putzheads!
These are just a tiny sample of the epithets that flew out of my mouth after I spooned the first bits of Wegmans' eat-n-heat Chicken Korma into my mouth!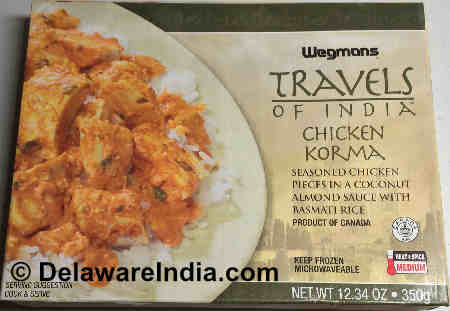 Phew! What an off-putting smell! The first chicken piece was a chewy piece of garbage that I had to spit out. With a revolting odor and flavor of antibiotics, Wegmans Chicken Korma was a depravity wrapped in a monstrosity inside an atrocity.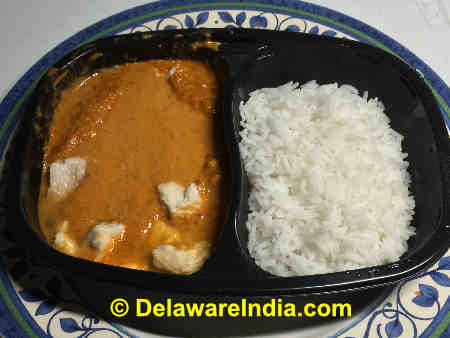 Surely, the last meal at the Angola Penitentiary in Louisiana or inside the ISIS cage in Raqqa or the daily dinner at the Reagan White House would taste a million times better than Wegmans' monstrosity of a Chicken Korma. Only @
Wegmans
can one human be so cruel to inflict such insufferable pain on another!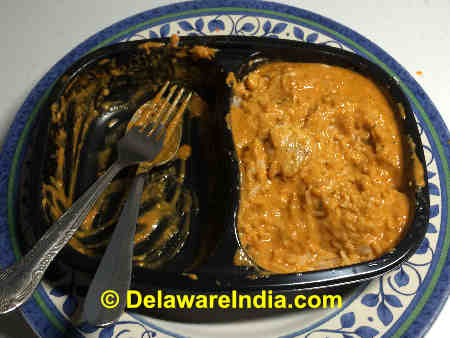 Non-Indian Food
There's a humongous amount of non-Indian food at
Wegmans
Glen Mills.
Since the purpose of my visit was to explore Indian food, I did not venture far into
non-Injun
territory.
However, I did sample two non-Indian items - Thai Crispy Chicken and Vegetable Fried Rice.
Vegetable Fried Rice (with green peas, egg, onion, carrot) was lukewarm, had a faint odor of Soy sauce and no flavor.
Thai Crispy Chicken was rather sweetish and certainly not crisp. Unless crisp means rubbery in the
Wegmans
dictionary.
Wegmans Glen Mills - Depressing
In a just world, the rodentologists preparing the Indian dishes at
Wegmans
Glen Mills would be arrested, hauled round Delaware on an extended 'perp-walk' leash and sentenced to harsh labor in one of the CIA 'not-so-secret' prisons in Egypt or Poland. Unless you derive insatiable pleasure from self-flagellation and self-mutilation, I'd recommend you stay far from the Indian section at
Wegmans
Glen Mills.
When it comes to Indian food, the folks at
Wegmans
Glen Mills are Stalin-like sadists and Madoff-like scamsters out to torture and bamboozle you.
Don't say the good souls at
DelawareIndia.com
didn't warn you!