India Palace Wilmington
India Palace Wilmington: Decent Indian Food
Folks, we have been dining at India Palace on Maryland Avenue in Wilmington, Delaware on and off for over a decade now.
We used to dig into India Palace's Garlic Naan and Malai Kofta. Naan bread is still pretty good at India Palace though not in the same league as the one served at now closed Taste of India on Kirkwood Hwy.
After a hiatus of about four years, we decided to revisit India Palace while returning from Wilminton the other day. This time we tried the lunch offerings at India Palace rather than the
a la carte
menu.
When we walked in around 12:30 p.m. the restaurant was quiet and had just two diners. We were greeted by the middle aged lady (owner Sushil's wife??) and quickly ushered to a table and water poured into our glasses. We were informed that the buffet was ready and Naan bread would be served at the table.
During our visit, India Palace's buffet table included the usual staples - Chicken Kabab, Chicken Curry, Navaratan Kurma, Mixed Vegetable Curry, Dal Makhani, Palak Paneer, Raita and Rice Pudding et.al.
Almost all the items we tasted at India Palace were mildly spiced, with the exception of Mixed Vegetable Curry, yet they were very flavourful.
The curries and plain rice all had the aroma and texture of freshly prepared food. Even a common fixture like diced red onion relish had a fresh taste and more importantly none of the items on the lunch table had either a spoiled or stale flavor.
India Palace - Flavorful Vegetarian Fare
Mildly spiced medium thick Palak Paneer with tasty paneer cubes was creamy, had no raw taste unlike at a lot of Indian restaurants, and we enoyed it with both Naan bread and plain rice.
Ditto with the light yellow colored Navaratan Korma prepared with a medley of diced carrots, green peas, cashew nuts and onion.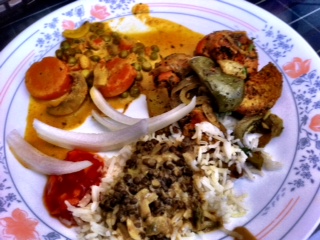 Navaratan Korma & Chicken Kabab
Mixed Vegetable Curry set in a red color oily sauce is a melange of sliced carrots, zuchini, cauliflower, brocoli and turned out to be a spicy delight.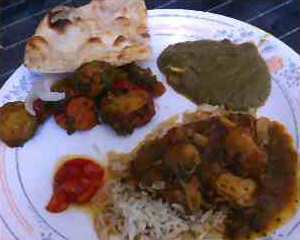 >
Chicken Curry, Palak Paneer, Mixed Veg Curry
While we enjoyed Palak Paneer, Navaratan Korma and Mixed Vegetable Curry what tickled our taste buds at India Palace was the Dal Makhani.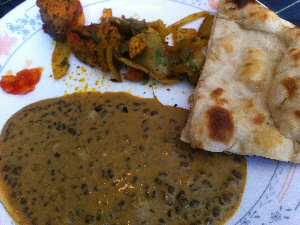 Creamy Dal Makhani & Good Naan Bread
Dal Makhani at most Indian restaurants tastes like well soaked lentils thrown into boiling water with a nary of thought of any seasoning. Not at India Palace. Dal Makhani at India Palace was creamy, very flavourful despite being mildly spiced and more importantly it tasted very nice with both naan bread as well as the hot and fresh plain rice.
India Palace - Decent Chicken Dishes
Chicken Kabab set in fried onions and green pepper (capsicum) was tender and quickly gobbled up with mucho gusto. We were grateful to have Chicken Kabab for a change instead of the pinkish-red color messy Tandoori Chicken common at most Indian restaurants.
Chicken Curry set in a watery brown color sauce also gave no room for complaint. Chicken pieces were tender and the spices had seeped well into the meat though we would have preferred it a tad spicier.
Good Naan Bread
Naan bread came hot to the table, was soft and tasty. We thoroughly enjoyed the naan with all the entrees.
Desserts
Rice Pudding was fine and thoroughly relished. It was creamy, slightly cold and had the right proportion of sugar and thick milk.
India Palace Service - Mixed Bag
The middle aged lady waitress was pleasant and helpful.
But our water glass had dust inside. Also, there were no labels for any of the items on the buffet table.
But for these two issues, we had an enjoyable meal at India Palace in Wilmington, DE. - ©
DelawareIndia.com