La Quetzalteca Smyrna
La Quetzalteca Smyrna - Decent Mexican Food
After our favorite Indian cuisine, we suppose we've tried Mexican cuisine the most.
Quesadillas, Burritos, Enchiladas, Tacos, Guacamole, Nachos, Margaritas and what-not Mexican food and drinks have pandered to our gargantuan appetite.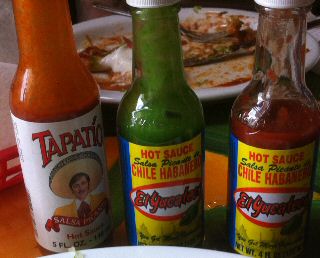 New Mexican Kid in Town
So, when a new Mexican restaurant
La Quetzalteca
opened up on RT-13 in Smyrna, DE it didn't take much persuasion to heave ourselves there. Of course, we'd been to
La Tonalteca
in Dover several times but
new
is
new
, right?
When we walked in around 11:30AM, the restaurant was packed, mostly with young women. We had a wait of about six minutes before a table opened up.
La Quetzalteca
is in the building formerly occupied by the
Wayside Inn
, right behind the bus stop.
Since it's a Mexican restaurant, it wasn't long before someone deposited the obligatory basket of Nachos along with a bottle of tangy red salsa on our table.
After crunching into those Nachos, we moved on to our appetizer, Jalapeño Peppers. At La Quetzalteca, these are deep fried Jalapeños stuffed with yellow cheese and served with lettuce and house dressing.
Notwithstanding the terror-inducing name of Jalapeño Peppers, they were not hot but tasty since the peppers seem to have gone through some marination. The house dressing, whatever it was, turned out to be delicious.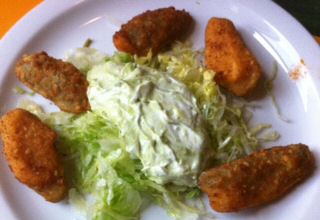 Chicken Quesadillas came with Guacamole, Sour Cream Lettuce and tomatoes.
Very filling and with a bit of those fiery sauces (on the table) inside the Quesadillas, we were on a merry trip.
The portions were generous for $5.40.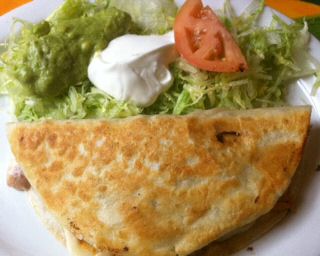 Vegetarians need not despair at La Quetzalteca.
There's a Vegetarian Lunch option available for $5.35. It comes with a Bean Burrito and Cheese Enchilada with sour cream, lettuce and tomato sauce.
We added a dash of Green Chili Sauce and Hot Sauce and, boy, was it delicious. But the promised tomato slice was missing. :(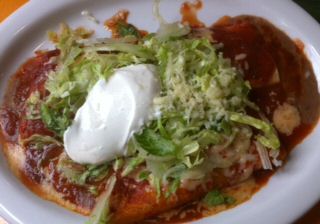 For those of you, who feel the heat-level in the food is not living up to your expectation there are a bunch of hot sauce bottles on the table.
Go for it. But do keep a napkin handy for the sweat that'll soon pour out.
We topped off our lunch with the Mexican dessert Sopapilla consisting of eight crisp. flour tortillas cut in pieces, covered with butter and honey and sprinkled with cinnamon powder.
Oh, there was a thin chocolate syrup and cream with a cherry in the middle.
Yummy!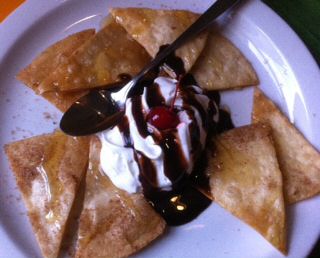 No, we didn't try the Margaritas during our recent visit.
But we promise you it won't be long before the next visit. After all, Lime Margaritas are only $2.99 on Wednesdays. ;)
Third World Hygiene, Fourth World Service
As with a lot of restaurants featuring Third World cuisine, hygiene is deficient at La Quetzalteca too.
Our table was sticky, had a couple of stains and there was an ant briskly marching around in circles.
Our bespectacled young hostess came over and declared,
Oh, I don't want to kill it
and then proceeded to do exactly that with her fingers! Really! :(
Well, we've seen worse things at Indian restaurants. But if you're the finicky kind, stay at home and eat a TV dinner.
Also, we were charged for some other dessert (a buck more) than what we ordered.
After we pointed out the error, our
ant-killer hostess
fixed it but no apologies were rendered.
No, Mexican food is not in the same class as Indian cuisine.
At least, whatever Mexican food we've had so far. Indian food has a richer variety and more intense flavors.
By the way, if you are going to
La Quetzalteca
for lunch we'd recommend you head there around 12:30PM so that you don't have to wait for a table.
Its sticky tables, ants and service snafus aside, we still thought
La Quetzalteca
was value for money, particularly the lunch menu.
DelawareIndia.com
recommends
La Quetzalteca
in Smyrna, DE. - © DelawareIndia.com