Five Guys, Bear
Address:


Five Guys

1249 Quintilio Dr
Bear, DE 19701


Five Guys, Bear Review - No Big Deal
A short while ago, one of our readers posted a comment about visiting
Five Guys
(the burger joint) last week and how the burger there was
excellent
.
That sent us down memory lane because a few months back we'd visited one of the
Five Guys
stores in our area.
Our visit was after
Zagat
rated
Five Guys
the #1 Burger last year.
Plus, there was all that hoopla about President Obama's visit to a
Five Guys
store in Washington DC.
We were curious to see what the big fuss was all about.
No Big Deal
Five Guys was the usual, crappy fast-food place.
The free peanuts were kept near the trash-can.
And the
Five Guys
employee serving us had the standard
I-don't-give-f*ck
attitude that fast food outlet employees usually sport.
We ordered the Hamburger (with Mayo, Lettuce, Tomato, Onion, Green Pepper and Mustard), Cajun Fries and a drink.
The Hamburger was $4.99, the Cajun Fries $2.39 and the drink $1.99.
It took about 7 minutes for our order to get ready. While waiting, we got some free peanuts (remember, they're near the trash-can) in a paper container.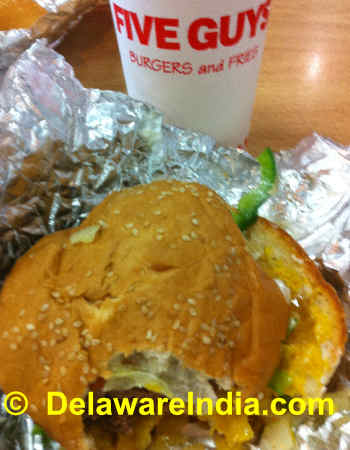 We don't recollect being particularly enthused about the burger.
Not particularly juicy or memorable in any sort of way.
Or maybe, we've not had enough hamburgers to appreciate a good one when we see one.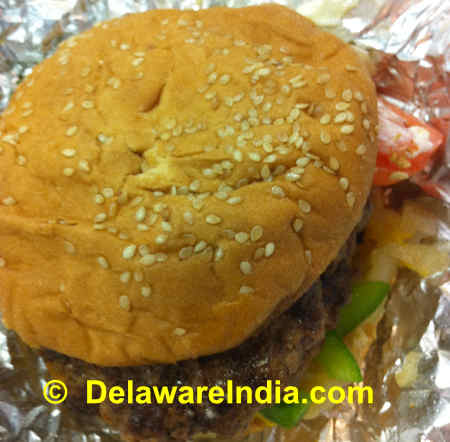 The Cajun Fries were no big deal either.
The boardwalk fries with Cajun seasoning at our neighborhood Pizza joint Polisano's are better.
The Polisano fries and, hell, even the Mac fries, taste far superior.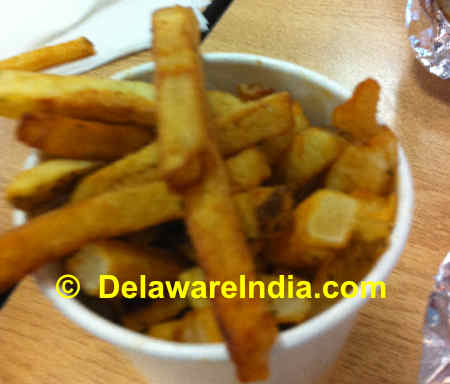 We remember having a nauseating feeling as we were returning home, perhaps because we gorged on the free peanuts. ;)
All in all, we wouldn't recommend
Five Guys
to anyone.
But then we wouldn't recommend any non-Indian food place to our readers (except, maybe
Maoz
).
With their infinite choices, varied cuisines (North Indian, South Indian, Punjabi, Gujarati, Andhra, Bengali),
yummilecious
spicy delights and a million kinds of sweets, Indian food ranks far ahead of any other.
Who gives a rat's ass about Five Guys or Wendy's or Burger King or Taco Bell!
Smart Indians
By the way, are Indians really into Hamburgers or any other fast-food stuff such as Chicken Sandwich and the like.
We don't think so.
On the few occasions we've been to Mac, Burger King, Taco Bell, Five Guys, Hardees and KFC, we've almost never seen Indians.
Smart fellas. these Indians. Who wants to eat that fast-food shit.
The only Indians we see in fast-food outlets here are the Gujjus working behind the counter at Dunkin Donuts and making that
bad
hideously awful coffee . ;)
- © DelawareIndia.com