Domino's New Artisan Spinach & Feta Pizza - Decent
We
like crappy pizzas.
That's why we gobble up
Domino's
pizza, gorge on
Papa John's
mess and gormandize at the forlorn
Pizza Hut
buffet.
So, when we espied an ad for Domino's new
Artisan Pizza
today it didn't take us long to fire up our
Firefox 7
browser and order a Spinach & Feta Artisan Pizza before you could say
Sonam Kapoor
.
By the time, we took a shower and went to the
dying United States Post Office
to drop off our Netflix DVD (
Cell 211
, a Spanish film that we may or may not review) our Artisans Pizza was ready.
$7.99 changed hands and we were handed a rectangular pizza box. Rather small compared to Domino's regular square pizza box.
On the way back home, we made a quick stop at the local
Gujju
liquor store to pick up some good
ol'
Guinness Extra Stout
Beer ($2.99).
What's a Pizza without some beer, eh?
Anon
, we were home and crunching into our thin crust Domino's Artisan Spinach & Feta Pizza.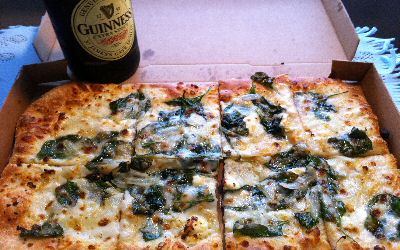 Hey, the
Domino's Spinach & Feta Artisan Pizza
is a decent pizza.
None of that crappy, vomit-inducing cheese that you usually encounter on Domino's pizzas.
If you believe the Domino's web site, our pizza includes Alfredo sauce, feta and Parmesan-Asiago cheeses, fresh baby spinach and onion toppings on an artisan-style crust.
Some weirdo at Domino's has measured the Artisan Pizza at 13" x 9" and we'll take his word.
The cheese quality on the rectangular Artisan Pizza (8-slices) was more than acceptable and the Feta Cheese added a nice flavor to it.
Fortunately, the spinach topping did not have the taste of some chemicals sprayed on them just before being shoved into the oven.
Onion flavor was muted and the taste of spinach and Feta cheese was dominant.
With the Guinness, it was delicious.
Well, the edges were a little hard and to this gluttonous
desi
at least a lot of the pizza surface area was naked. :(
Our whining aside, Domino's Artisan Spinach & Feta Pizza was a good chain-store pizza but at $7.99 it's a
RIPOFF
for eight small pieces.
Our
suggested price for the Domino's Artisan Spinach & Feta Pizza -
$5.99
.
Domino's
, are you listening? - © DelawareIndia.com