King Buffet Dover
King Buffet Dover, DE : Worth a Trip
Chinese lunch buffets are God's bountiful blessings to America.
Sweetie, I'm not kidding.
Where else can you get a lavish
all-you-can-eat
feast for a trifling sum of $6.65.
Delaware capital Dover is blessed to have two Chinese lunch buffet restaurants -
King Buffet
and
Chinatown Buffet
.
Both offer an extensive choice of dishes, more than enough to please the most gluttonous and demanding diners.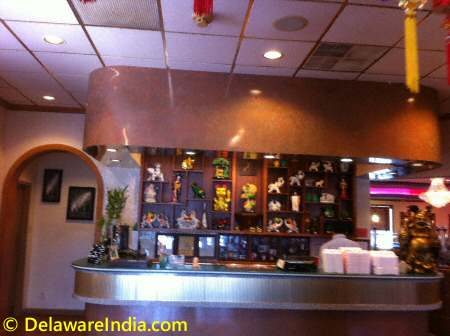 Entrance to King Buffet
Food
During my recent visit to
King Buffet
, I gorged on a variety of food.
I gorged and gorged until my bloated stomach gave up and I could gorge no more.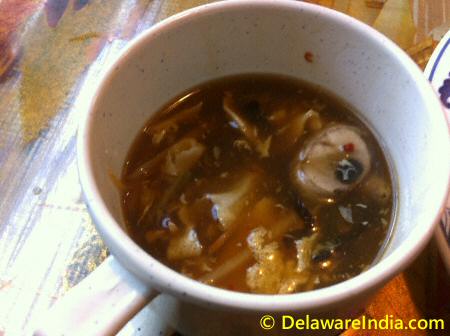 Hot and Sour Soup
Of course, I started with soup.
There were two varieties of soup- Egg, and Hot and Sour.
I picked Hot and Sour Soup.
The soup was hot but not sour enough for my demanding palate.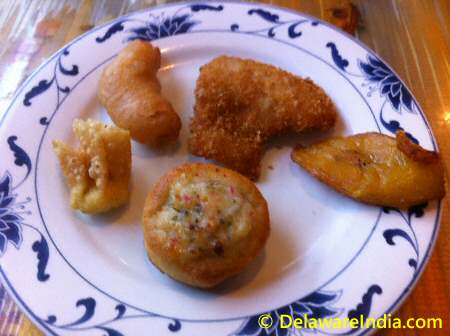 Fried Plantain (top right), Breaded Crab Meat (bottom)
Next, I took the plunge into appetizers.
OMG, what a choice awaits the hungry diner!
I let my taste buds graze freely across Fried Fish, Crab Rangoon, Sweet and Sour Chicken, Fried Plantain and Stuffed Breaded Crab Meat.
I'd heartily recommend the Fried Plantain and Stuffed Breaded Crab Meat to anyone.
These are tasty treats sure to "Wow" anyone.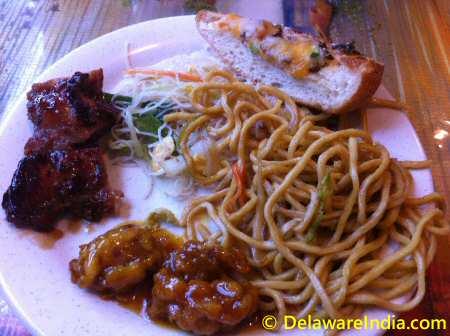 Veg. Lo Mein, Shrimp Mein Fun (top), Garlic Bread
Endless choice at Chinese Buffets is both a blessing and a curse.
What to Eat
and
What to Skip
, that is the question (thank you, Shakespeare).
My trick is to take the middle path - try a combination of new and familiar items.
That's how Vegetable Lo Mein, Bon Bon Chicken and General Tso's Chicken (all familiar items) ended up on my plate.
To be adventurous, I picked Shrimp Mei Fun and Garlic Bread.
Truth be said, I've never encountered Garlic Bread before at a Chinese restaurant.
I'm delighted to inform you that the Garlic bread with a mildly-flavored sauce on top was a crisp delight that endeared itself to my palate.
Vegetable Lo Mein and Shrimp Mei Fun were not much to write home about in the flavor department.
Alas, General Tso's Chicken was too mildly spiced to give much comfort.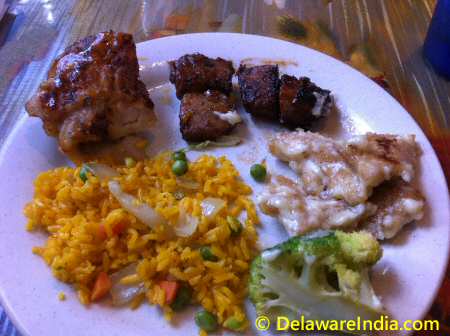 Coconut Chicken (right), Veg Fried Rice, BBQ pork (top right)
I struck gold with the Coconut Chicken.
With a white sauce on it (presumably coconut milk was used in its preparation), the Coconut Chicken, a bit sweetish, brought a glow to my face.
Too all those complain I rarely smile, try giving me Coconut Chicken every day. And I'll never stop smiling.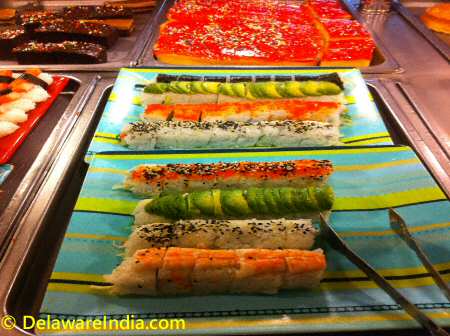 Sushi Counter
Sushi is a perennial favorite with me and I lost no time in heaping four different kinds on my plate.
While they were not the finest Sushi I've had, they were not bad either.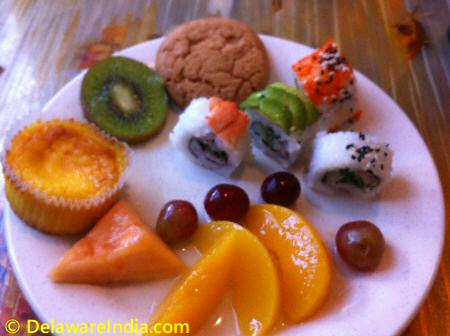 Sushi and Fruits
It's healthy to eat fruits and I took a helping of peaches, grapes, cantelope and Kiwi.
There were several varieties of pastries on offer.
Sadly, by now I was close to bursting and had to regretfully give them the pass.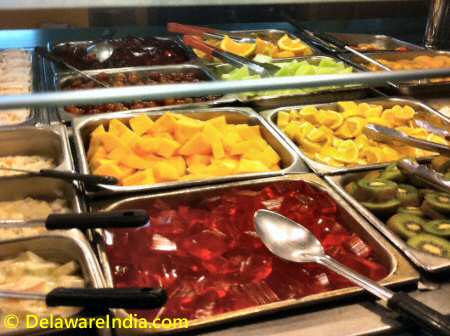 Fruits and Desserts Counter
King's Buffet also offers eight varieties of Ice Cream including Strawberry, Mint chocolate Chip, Vanilla, Coffee and Butterpecan.
I tried a few varieties and these were decent ice creams. If only there was space in my belly, I'd have tried 'em all.
Well, there's always another day!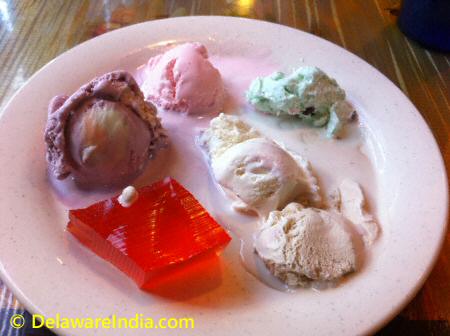 Ice Creams & Jelly
No Soda
While
King Buffet
is a great deal for $6.65, Soda is a complete rip-off at $1.75.
I strongly urge you to stay off Soda and get Plain Water instead.
In any case, water is a far healthier alternative to Soda.
Service and Ambiance
There were pluses and minuses on the service front.
We had to struggle to catch a waitress' attention to get a refill of water.
When we asked her for more water, she took the glass from our hand and returned a minute later with water.
Don't they have a water jug?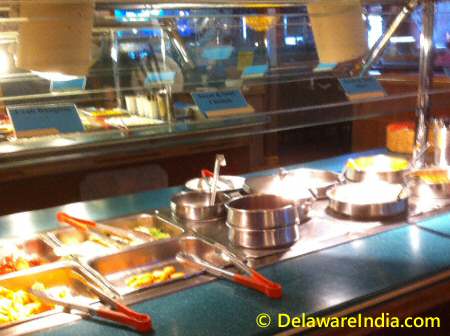 Buffet Counter
On the positive side, the restaurant was clean, both the seating area and the buffet counters.
And finished plates were removed promptly after checking with us.
King Buffet Dover Rating
How these Chinese restaurants manage to offer so much food for so little charge is a mystery known but to
God
.
But I'm not complaining!
If you happen to find yourself on RT-13 in Dover, I suggest you give
King Buffet
a shot. - ©
DelawareIndia.com
Other Delaware Chinese Buffets
Old Town Buffet Dover

Szechuan Restaurant Buffet Wilmington
Chinatown Buffet Dover