Old Town Buffet Dover
Old Town Buffet Dover, DE : Go for the Sushis
Chinese buffets in Delaware are generally a triumph of quantity over quality.
The sheer variety of items and the low price makes you rub your eyes in disbelief.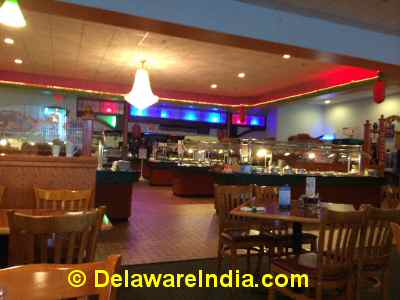 For quantity-minded folks, Chinese buffet restaurants seem like one of God's few gifts to Delawareans.
Where else but at a Chinese buffet can you get a choice of 50 plus items including several kinds of Sushi and six or seven varieties of ice cream for a mere $6.99.
But the flip side of Chinese buffets is that, with rare exceptions, the food seldom leaves you spellbound.
I'm not complaining because no one ever goes to a Chinese buffet expecting a Michelin-grade restaurant.
I've been to
Szechuan Buffet
(Wilmington),
King Buffet
(Dover),
Chinatown Buffet
(Dover),
Hibachi Buffet
(Newark),
East West Buffet
(Middletown) and recently
Old Town Buffet
(Dover).
Except for the decor and the address, there's not that big a difference in the food.
Old Town Buffet
I recently dropped by Old Town buffet in Dover to try the food there.
Old Town Buffet is located on S.Governor's Ave (off RT-13) in the same complex as Ollie's and Harbor Frieght tools shop.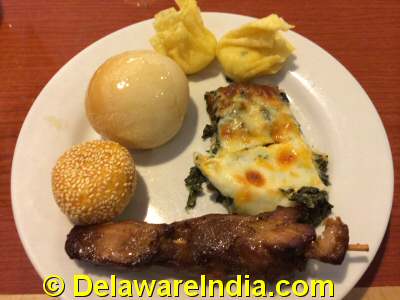 Sesame Ball, Chicken on Stick, Spinach & Cheese etc
Because of its proximity to the Dover Air Base, Old Town Buffet attracts a stream of air force personnel.
I dug into several items during my visit.
Mostly, I was disappointed.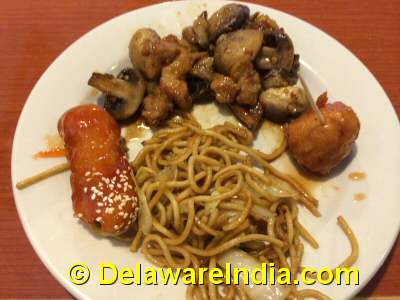 Honey Chicken, Noodles etc
Malaysian Chicken had little flavor to it.
Not in the least bit spicy, it was an affront.
Chicken on a stick was cold and flavorless.
Hot and Sour Soup was the same gooey stuff it is at most Chinese restaurants.
Kimchi
I was in ecstasy when I spotted Kimchi, the foul-smelling Korean favorite.
Kimchi is an eternal favorite of mine.
But that too had gone a bit awry at Old Town buffet.
At Old Town Buffet, red chilies overwhelmed the flavor of cabbage and other ingredients.
I was also not pleased that the Kimchi wasn't fermented enough.
The Kimchi at King Buffet is far better.
Since I'm a huge fan of Kimchi and willing to forgive any transgressions here, I did not waste anything on my plate.
Sushi Paradise
There were more varieties of Sushi at Old Town Buffet than I could count.
I tried a bunch of them (Tokyo Sushi, Chef's Special, Vegetable Sushi, Boston Sushi, Avocado Sushi and Crab Sushi).
I also helped myself to some Wasabi (a green paste kept near the Sushi Rolls).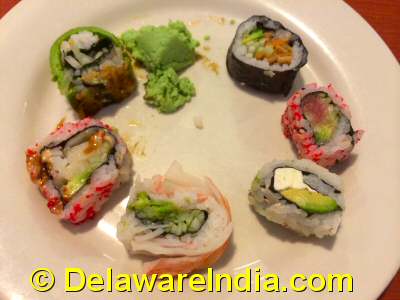 Variety of Sushi Rolls
Be warned that Wasabi has an odd, pungent flavor to it.
Overall, I was not disappointed with the Sushi Rolls. But then I'm rarely disappointed with Sushi Rolls.
If I return to Old Town Buffet it'll be primarily for the Sushi rolls.
Let's get to Ice Creams now, shall we.
Desserts
In my dictionary, there's no such thing as a bad Ice Cream.
Like its Dover rivals King Buffet and Chinatown Buffet, Old Town Buffet too offers several varieties of Ice Cream as part of its buffet.
I heaped three different flavors of Ice Cream (French Vanilla, Strawberry and Chocolate) in my cup.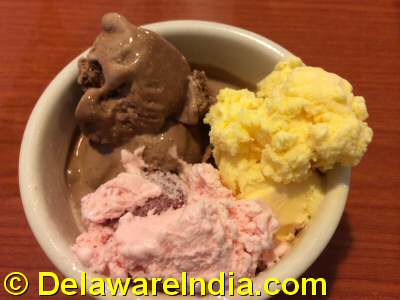 Chocolate, Strawberry & French Vanilla Ice Cream
And I relished them all although I must say the Strawberry was the best.
Except for its Sushi Rolls, there's not much to recommend Old Town Buffet unless you're a big fan of lots of food at cheap prices.
Tip
- BTW, if you're visiting New York City here's a valuable tip for you - the
Chinatown bus in Dover
starts and stops in front of Old Town Buffet. - ©
DelawareIndia.com
Other Delaware Chinese Buffets
King Buffet Dover
Chinatown Buffet Dover
Szechuan Restaurant Buffet Wilmington