California Pizza Kitchen Christiana Mall Newark
California Pizza Kitchen Christiana Mall: Monkeys Can Make Better Pizza
After eating a Veggie Pizza peddled by
California Pizza Kitchen
in Christiana Mall (Newark, DE), I arrived at a depressing conclusion.
If I were to ask the Banana-loving, handbag snatching monkeys in Tirupathi or Mathura to make a Veggie Pizza, they would doubtless turn in a more palatable pizza than the clowns at California Pizza Kitchen in Christiana Mall.
Must be bad karma that led me to inflict California Pizza Kitchen's atrocity upon myself!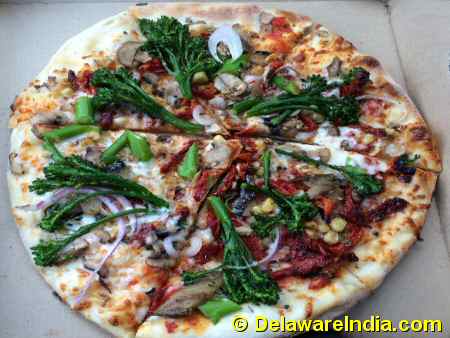 California Veggie - $12.99
CPK @ Christiana Mall
The other day I was at the Microsoft store in Christiana Mall to check out the Windows smartphones and Surface tablets that nobody's buying.
As I was leaving the mall, I spotted California Pizza Kitchen.
It was lunch time and anon I stepped into California Pizza Kitchen.
Oh, what a horrendous mistake.
California Veggie Pizza launched such a brutal assault on my tastebuds that I
almost
swore never to touch a pizza again.
Folks, the Veggie Pizza peddled by California Pizza Kitchen in Christiana Mall is Satan's handiwork.
What's Wrong?
Well, in my not so humble opinion everything was wrong with the Veggie Pizza from California Pizza Kitchen.
From the crust, texture of the pizza and edges, quality and quantity of mozzarella cheese, veggies and finally the overall taste of pizza, California Pizza Kitchen left no stone unturned to make my pizza awful.
Dear reader, here's my tale of woe:
California Veggie from California Pizza Kitchen failed at a most basic level - quality and quantity of Mozzarella, way too little, unevenly spread and of lousy quality.
Then the crust. What about it? Sure it was regular crust but horrid texture wise. The edges were hard and the middle portion was rubbery texture wise.
To add insult to injury, there was the dry flour issue. The Veggie Pizza had dry flour sticking to it in several places. Maybe the baking sheet was not clean, or the dry flour was not dusted off the pizza properly after it was rolled. Whatever be the reason, dry flour is not what I like on my pizza.
California Veggie included Baby Broccoli, Eggplant, Cremini Mushrooms, Sun-dried Tomatoes, Corn, Red Onions toppings but the overall impact was not one that delighted me. Of the toppings, Baby Broccoli, Corn and Sun-dried Tomatoes were added more than the others.
California Pizza Kitchen Rating
Bottom line, the California Veggie pizza peddled by California Pizza Kitchen in Christiana Mall (Newark, DE) is not value for money.
It failed miserably at all levels - taste, flavor and texture.
Unless you relish throwing away $12.99, I recommend you stay away from California Pizza Kitchen's Veggie pizza. - ©
DelawareIndia.com