Jeenwong Thai Wilmington Review
Jeenwong Thai Wilmington: So So Food; Poor Value for Your Money
When we heard Wilmington's Riverfront Market on S.Orange St included a Thai restaurant
Jeenwong Thai Cuisine
, we turned on our GPS and headed there pronto.
Jeenwong is one of the takeout places at the Riverfront Market. If you plan on eating there, head for one of the several tables inside the Market.
Since we reached there around noon, we opted for the lunch specials.
Jeenwong serves lunch specials from 11:30AM to 1:00PM. Lunch specials are priced at $7.25 and come with a choice of Noodles or Fried Rice and a choice of two entrees from the buffet station.
For our first lunch special, we picked Veg Lo Mein Noodles, Thai Green Curry Chicken and Thai Style Honey Chicken.
We wanted a Vegetarian-only selection for our second lunch special but that posed a problem. You see, there was only one vegetarian entree available during our visit - Thai Tofu Eggplant curry.
Jeenwong Thai Wilmington - Chicken Lunch Specials
Vegetable Lo Mein Noodles with a sprinkling of Cabbage leaves was fine. No complaints folks.
We added a bit of sweet chilli sauce that we picked up from the Jeenwong counter to enhance the Noodles' taste to suit our our spice hardened Indian palates.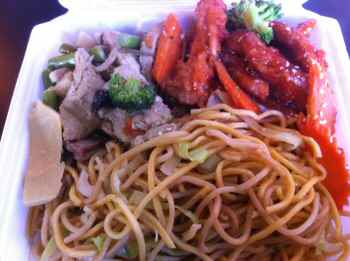 Tasteless Thai Green Cury with Chicken (top left)
Flavorless Thai Honey Chicken (top right)
Lo Mein Noodles (bottom)
Thai Green Curry with Chicken included Beans, Cubed Chicken and Broccoli crowns. Thai Green Curry Chicken was a spiceless and tasteless travesty. It felt as if we are eating plain boiled chicken and vegetables. There was no flavor of the yummy Green Curry paste that one associates with Thai Green Curry.
Obviously, it was a big disappointment.
Thai Style Honey Chicken again was again not in the flavorful category. It came with a serving of Broccoli crowns. On hindsight, it was a mistake selecting Thai Style Honey Chicken on our part.
The small serving size of the Thai Style Honey Chicken was a blessing in disguise.
Jeenwong Thai Wilmington - Vegetarian Lunch Specials
Vegetarian Lunch Specials included Fried Rice with Egg and Thai Tofu Eggplant Curry.
With a sprinkling of diced Carrots and Green Peas, scrambled eggs, Jeenwong's Fried Rice endeared itself to our tastebuds. We enhanced the taste of fried rice with egg by adding some sweet red chilli sauce.
But Thai Tofu Eggplant curry turned out to be a punishment for our tastebuds.
Folks, there were multiple problems with Jeenwong's Thai Tofu Eggplant Curry:
First, the entire serving of Thai Tofu Eggplant Curry had just one small slice of Eggplant.
Second, the single tiny slice of Eggplant had no taste or flavor. It felt like eating an Eggplant boiled in water.
Third, Thai Tofu Eggplant curry had far too much Tofu and long Beans. Tofu was not that tasty either.
Fourth, the red Pepper slices, Beans, Tofu, Single Eggplant slice seemed to have been cooked separately and thrown into the buffet station vessel.
Fifth, Thai Tofu Eggplant Curry tasted like eating partially boiled vegetables rather than a Thai Curry.
Jeenwong Thai Wilmington - Unattractive Lunch Specials
Jeenwong Thai Cuisine lunch specials are not as attractive compared to some of the other Thai restaurants in Delaware.
Sure, Jeenwong Thai Cuisine offers a choice of Fried Rice Or Noodles and Two Entrees.
But the serving size is too small and not in the least bit filling to be considered a value deal.
Also for a an additional 25 cents to 75 cents, other Thai Restaurants like Tasti Thai ($7.50) in New Castle and Bangkok Thai ($7.95) in Dover serve far more sumptuous lunch specials that include soup or an appetizer or both, medium to large serving of a single entree and Jasmine rice.
Jeenwong Thai Cuisine - Quick Service, Cash Only, No Receipts
The tall waiter at the Jeenwong counter was attentive, explained the various dishes available and filled our order in a jiffy.
On the flip side, Jeenwong Thai Cuisine accepts only cash and does not provide you with a receipt.
Jeenwong Thai Wilmington - DelawareIndia.com Rating
Price Range
- $7.25 lunch specials
Food Taste
- Flavorless Entrees
Serving Size
- Small
Service
- Quick
Payment Type
- Cash Only without Receipts
Vegetarians Diners
- Avoid, limited choice
Though we fell for the $7.25 lunch specials, they are not really attractive considering the small serving size and overall mediocre taste of the entrees.
Also avoid Jeenwong Thai Cuisine lunch specials if you are a vegetarian. The choice is too limited for Vegetarians.
Given our disappointing lunch experience, it's unlikely we'll be returning to
Jeenwong Thai
any time soon. - ©
DelawareIndia.com