Nhu Vu Vietnamese Restaurant
Nhu Vu Middletown, DE : Mixed Bag
Much as I dearly love Indian food, once in a while I get into an experimenting mood and try other cuisines.
The other day my experiment was a Vietnamese restaurant
Nhu Vu
in Middletown.
I have had Thai, Chinese, Mexican, Italian food etc on multiple occasions but never tasted Vietnamese food.
Lunch Specials
Located in Acme complex on Rt 299 behind Starbucks in Middletown DE, Nhu Vu Vietnamese restaurant offers lunch specials and
a la carte
menu.
Since I was trying Vietnamese food for the first time, I stuck to lunch specials.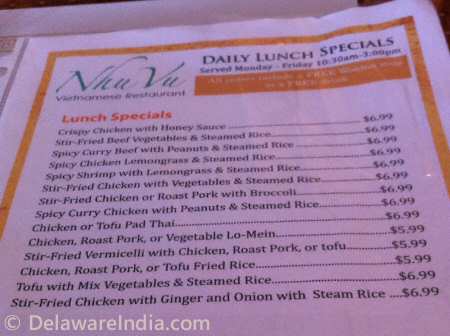 Nhu Vu Vietnamese Lunch Specials
Nhu Vu lunch specials range from $5.99-$6.99.
Lo-Mein, Stir Fried Vermicelli and Fried Rice are priced at $5.99. The rest are $6.99.
I ordered a Spicy Chicken Lemongrass ($6.99) for dine-in and Tofu Fried Rice for takeout ($5.99).
Here's my take on the two Vietnamese restaurant lunch specials:
Spicy Chicken Lemongrass
Spicy Chicken Lemongrass came with a small serving of steamed rice and Wonton Soup.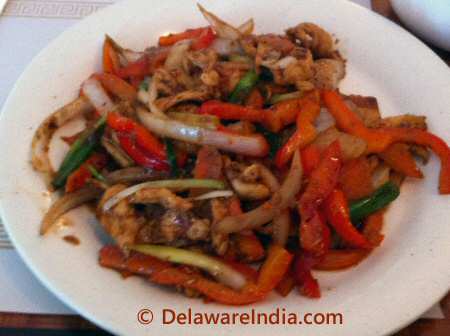 Spicy Chicken Lemongrass - $6.99
Spicy Chicken Lemongrass included boneless Chicken pieces, sliced Tomato, Onion, Carrot. Green Beans, Snow Peas and Green Onion.
With succulent Chicken pieces, Spicy Chicken Lemongrass serving size was decent.
The dish may rank as spicy for Americans but not by Indian standards.
Only a wee bit spicy for my spice hardened Indian palate.
Notwithstanding my Indian spice expectations, I would put Chicken Lemongrass Vietnamese dish in the decent category.
The dish was flavorful with a bit of watery gravy.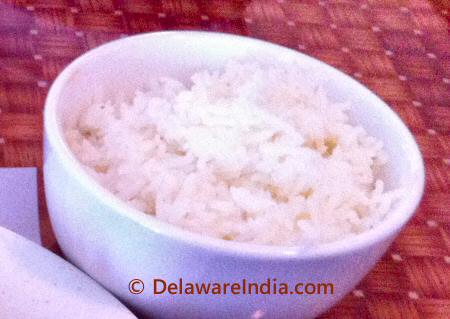 Steamed Rice
Steamed rice was hot and serving size was sufficient. No complaints, folks.
Wonton Soup included two pieces of Wonton and green onion and cilantro seasoning.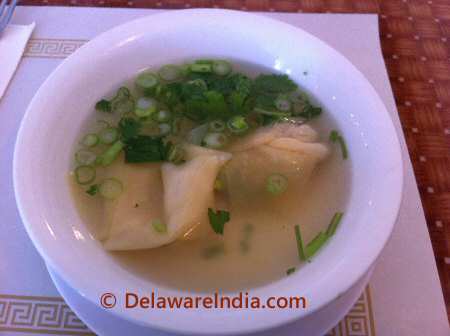 Wonton Soup
Wonton soup was served hot as it should be and I had no issues with it.
Tofu
Since I like Tofu, I ordered a Tofu Vegetable Fried Rice ($5.99) for takeout.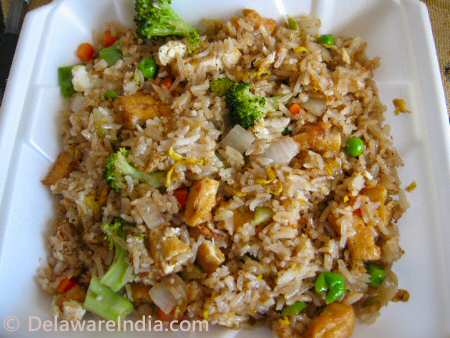 Tofu Fried Rice - $5.99
Because it was part of lunch specials, Tofu Vegetable Fried Rice came with soup.
Tofu Vegetable Fried Rice included fried Tofu, diced Carrot, Green Peas, Baby Corn, Cauliflower, Broccoli, Snow Peas, Egg and Soy Sauce dressing.
Serving size was not bad but it was way too bland.
I regretted not picking up some hot chilli oil.
Soup Mess-up
What irritated me a bit was the soup mess-up.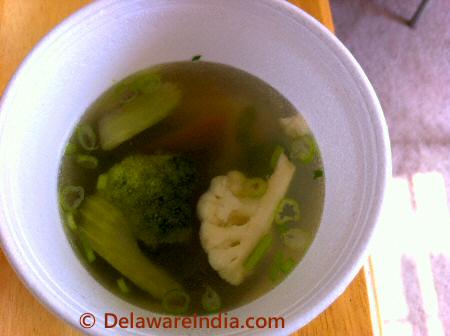 Vegetable Soup
Instead of Wonton Soup with Vegetables, my takeout order included plain Vegetable Soup. There were no Wontons in the soup.
My waiter had agreed to replace the pork in the Wonton with vegetables. However, when I came home and opened the container what I found was plain Vegetable Soup.
Vegetable Soup included one piece each of Celery, Broccoli, Cauliflower and three pieces of Carrot and few pieces of Green Onion and Cilantro.
Devoid of any flavor, it felt like drinking warm water with vegetables rather than Vegetable Soup.
Ambiance and Service
Located in Acme Complex on East Main St in Middletown, Nhu Vu Vietnamese restaurant has a spacious dining hall.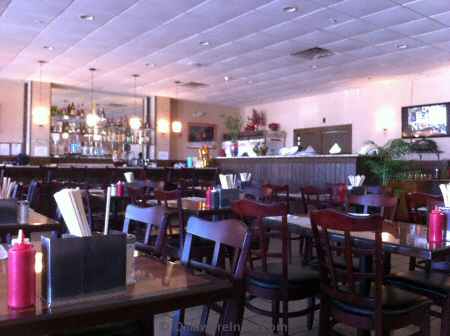 Nhu Vu Vietnamese Dining Hall
The restaurant floor and tables were clean.
I was greeted by an energetic young waiter who was courteous and assisted me in ordering both Chicken and Vegetarian takeout.
The same waiter promised to substitute Wonton Soup with Pork with Wonton Soup with Vegetables but messed up my order at the instructions of a lady (owner??) as she got agitated with my substitution request.
My takeout lunch order was packed neatly and came with napkins, soy sauce and a fork.
Nhu Vu Middletown Vietnamese Rating - Not for Every One
If you are a pure Vegetarian, avoid Nhu Vu Vietnamese restaurant in Middletown as my Vegetarian Tofu Fried Rice included Egg.
Also if you are big eater, Nhu Vu Vietnamese may leave you unsatisfied. You may end up ordering two lunch specials costing you $12-$14 to still your hunger pangs.
If you have a spice hardened Indian palate,
Nhu Vu
Vietnamese food may disappoint you. - ©
DelawareIndia.com